Wow, look what can happen when you're offline a day flying home from Lebanon via Frankfurt: Intel Corporation agreed to join One Laptop Per Child's Board of Directors as the 11th member, focused on exploring collaborations involving technology and educational content.
First off, I am not surprised at the move. Last month I was surprised by a call from the OLPC leadership looking for contacts at Intel they could talk with about ending the public feud between Nicholas Negroponte and Craig Barrett. I was asked to keep the call quiet, and I did, for I think overall, the very over-hyped squabble was distracting for everyone involved with low-cost computing for the developing world.
But the direction of that call, OLPC looking for Intel contacts, colors my impression of the Intel + OLPC agreement. I don't see Intel joining the OLPC Board as The Register does, Negroponte didn't shame Intel to do anything, but Ashlee Vance was right in downplaying Intel's excitement over working with OLPC.
Intel + OLPC was a move of convenience for Intel, but desperation for OLPC, and Intel's direct involvement will degrade OLPC's independence and reduce its impact on computing in the developing world.
It's now July and OLPC has yet to announce a bona-fide order contract from any single government. In fact, I've only found one relevant Request for Proposal for one-to-one computers in education and Quanta is even lowering 2007 production projections. All that may not be related to the Negroponte/Barrett flame war, but it was OLPC who was loosing the conversation at the governmental level.
In my travels for my day-job, I meet often with technology leaders in the developing world, and all of them have heard of both the XO and the Classmate. Opinions on the better hardware platform are mixed, but almost all agree that OLPC's lack of a detailed implementation plan is a deal breaker.
In addition, even when the OLPC XO was clearly understood to be a computing revolution, not a Classmate evolution, Intel's Teach for the Future/World Ahead teacher-centric training program, a decent implementation methodology in its own right, was considered to be world-class and worth an investment in Classmates instead of XO's.
Now a marriage of the XO technology with the Intel methodology would be the best outcome of the Intel + OLPC union. My dream of stunning clock-stopping hot technology integrated into classrooms via motivated and trained teachers, and culturally accepted into the larger community as a tool for child-centric learning at home, via the billions of dollars and millions of contacts Intel has developed over its lifetime of close interaction with "emerging markets."
Children's Machines flowing through those connections with local computer assemblers, who could then offer XO maintenance plans to schools, freeing teachers to teach, not tech support when children hack source code and Humpty Dumpty laptops.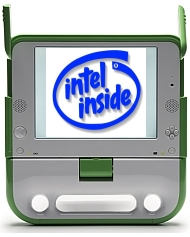 But that is not a guaranteed result of Intel + OLPC. I think Intel will use that very same global network, that very same teacher training, as a subtle but effective lever to slowly move OLPC into supporting and one day exclusively using Intel products. Or as Lee Felsenstein so eloquently explained to Linux News:
When an 800-pound gorilla gets on a boat, it's going to tilt," Felsenstein said. "Intel will have more opportunity to change things on the inside, and AMD could potentially be the big loser."

Ultimately, Intel's motivations will have a large impact on the outcome, he added. "How this goes will depend a lot on Intel's willingness to invest in a new market," he explained. "Will they invest in it, or will they simply be there to spoil AMD's chances? It should be interesting to see."
And I can see the direction this is going from the very start. Intel sees the OLPC demographic as a sales market, not a philanthropic mission, as any big corporation should. Just check out the quotes by Will Swope, vice president of corporate affairs at Intel in the
ZD Net article
:
At some point, Intel also wants its chips to be inside the XO laptop, Swope said. "We are going to try to win the XO business, but it's the OLPC's decision. We haven't won the business as a result of this agreement."
And in the
TG Daily report
:
It does not come as a surprise that Intel wants to supply hardware to the OLPC: "Of course we want the design win," Swope said. "If we are not in this product generation, then we want to be in the next one." Intel will also try to work with the OLPC to expand the OLPC product line to offer more than just one product in the future. This means that Intel will be competing with AMD for hardware supplies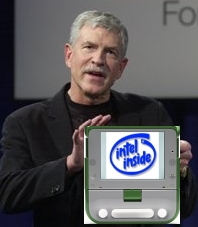 Will Swope wants Intel-based XO's
But don't be fooled by his
AP quote
:
"There are an awful lot of educational scenarios between K and 12," said William Swope, Intel's director of corporate affairs. "We don't think all those are going to be served by any one form factor, by any one technology, by any one product."
Intel did not get to be a multi-billion dollar multinational computing dominator by playing for second in a target (or emerging) market. Intel will invest in OLPC to become the main chip supplier for developing world computers, squashing any other entrant or competition, and not always with better technology. And that may be the worst result of the Intel + OLPC agreement, a decrease in technology competition.
For the last six months, as OLPC and Intel battled over participating countries, each company improved its offering. Intel teamed up with Asus to introduce the Eee PC while OLPC dropped Constructionism and focused on educational content and activities.
With this competitive pressure removed, neither organization will be pushed to innovate specifically for the developing world's educational market. Oh you and I will definitely see commercial innovation, but that's not the point of one laptop per child (nor is eliminating poverty).
OLPC is about education, about empowering children to learn learning using the most cost-efficient and applicable technology. Let's hope Intel remembers that when it joins AMD at the OLPC Board meetings.