OLPC News Authors
OLPC News is the collective output of a core set of independent authors who challenge our assumptions and initiate though-provoking dialog on the One Laptop per Child program. These experts span a spectrum of thought, from fanboy to critic, striving to keep OLPC News your independent source for news, information, commentary, and discussion of the One Laptop per Child endeavor.
Yet we are looking for new voices, new views, new optimism about the XO laptop to join our successful enterprise. Writers who can add to the commentary and discussion of One Laptop per Child with clear, concise posts that need not agree with OLPC. Interested? Then contribute today!

1 TrackBack
My organization, Ghana Together, partners with Western Heritage Home, an NGO based in Axim, Ghana that focuses mostly on helping vulnerable and orphaned children. We partnered on building a Children's Home/Communi... [more]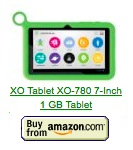 XO Tablets for Sale
Buy Your XO Tablet on Amazon.com
OLPC is selling the new XO Tablets on Amazon.com for just $149. Buy yours today!
Discussions
The interesting thing about the XO is that
the developers say children can not navigate a …

Well said Yama! :-)

@Lionel
Ever seen "Princess Bride"?
Une nuance: mostly dead.
Easy f …

Hey mavrothal, does someone know how to contact you? :-) It would be a shame to lose the link - …

does planet.laptop welcome olpcnews now? :-) boy, those were the days...

They say no stronger friendships are than those made when together facing fire.

Our enem …

Christoph, if you make it to Chicago for a visit DEFINITELY do let me know!

Christoph, Wayan, and all other contributors,

Thank you so much for making this one of t …

Beth, thanks for the kinds words. And you're certainly right: Regardless of what happens with OL …

Very classy post, Christoph! I always keep my OLPC years close to my heart and know you will too …

Lars. I'm aware that OLPC news will stop publishing soon.
I hope we'll be able to continue …

It's called wiki.laptop.org ...

Thanks for the kind words Lars, much appreciated!