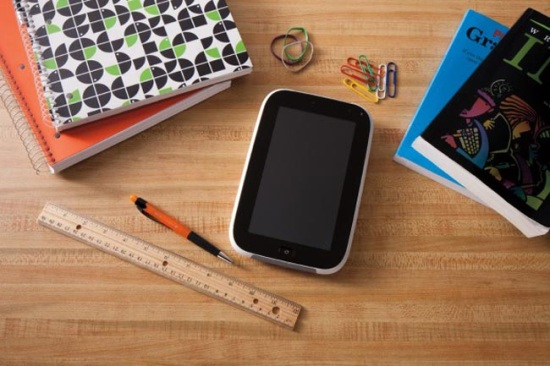 In early April Intel launched its long-expected tablet reference design which is called Studybook. On the hardware side of things the specifications which we wrote about in late March very fairly accurate but I'm including the list again here for the sake of completeness:
Display: 7" with 1024 x 600
CPU: 1.2 GHz Z650 Atom (single core)
RAM: 1GB or 2GB
Mass storage: 4GB to 32GB
Cameras: 0.3MP (front) and 2MP (back)
Weight: 525 grams
Battery life: up to 5.5 hours
Dimensions: 13.5 x 20.7 x 1.65 cm
I/O: 1x full-size USB, 1x 3.5mm audio-out, 1x HDMI, 1x MicroSD, 1x SIM card (for the optional 3G modem)
Extras: WiFi, Accelerometer
Options: Bluetooth, 3G
In terms of the operating system local manufacturers will have a choice between Windows 7 (and in the future possible also Windows 8) and Android.
For a good tour of the Studybook reference design and some of the software it ships with I would recommend to watch this 12-minute video:
To me one of the coolest parts is the microscope add-on which can be mounted over the back-side camera (seen about 10:18min into the video). While this doesn't get my DIY-heart as excited as Mike Lee's water drop microscope or Bill Tuk's cabochon microscope I think it's a neat and useful solution.
In terms of the price the details will again depend on the specific manufacturers but according to Computerworld Intel is aiming for the $199 to $299 price range.
As per the title of this article I think that tablets based on Intel's Studybook design will be strong competitors to OLPC's XO 3.0. While the XO 3.0 is expected to be less expensive than Studybook tablets Intel's global brand recognition and their vast sales operations will likely prove to be significant advantages when dealing with governments and other organizations.