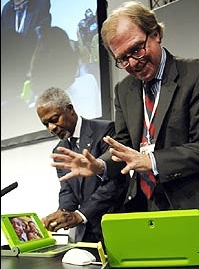 Back when he first introduced his grand dream to the world - improving education through Constructionism, personified in a laptop for every child to learn and play with - Nicholas Negroponte picked an amazing marketing meme to express his dream's affordability: "$100 laptop".
In doing so, Negroponte subverted his original idea in the minds of many. Gone was an educational tool for children. In its place was the idea of an adult computer for $100. So while the One Laptop Per Child team was focused on a primary school student-centric design, everyone else was thinking about teenagers and adults using low cost computers.
This second, more mainstream idea is now coming back around to One Laptop Per Child in the form of competition from Intel. First there was the Classmate PC, which is a quick OLPC catch-up computer that sacrifices much to make a sub-$300 price point but at least pays lip service to Dr. Negroponte's original education idea, even as the OLPC pot called the Intel kettle black.
Now there is the ASUS Eee PC and it doesn't even pretend to be a pure education play. Oh yes, it does borrow heavily from OLPC with its tagline of "Easy to Learn, Work and Play" but do not be fooled. This is not a computer for children. This is One Low-Cost Laptop For Everyone.
With such a broad target, there are going to be instant winners and losers. The first winners will be anyone who wants a low-cost computer and can afford the $200-300 price point. This includes students and adults in the developing world who are not part of OLPC's target market of young children and might find the
Sugar UI
to be childish anyway. They are now going to be seen as a viable market, one even giants like Intel should focus research, development, and production resources to serve.
The near-term loser will be One Laptop Per Child. The fixation on price, on a "$100 laptop" has just blown back into their project. Now they not only have to prove that their revolution in computing will educate children, they have to prove that the risks inherent in a Constructionist-based OLPC XO education far exceed the evolutionary benefits of a standard laptop made affordable.
This is where controlled pilots, objective testing, and a defined implementation plan could be differentiators, reasons to trust in the original one laptop per child idea generator, Nicholas Negroponte, with the future of their children. And OLPC will need more than trust, as not even Presidental love equals laptop purchases, as Brazil will show this summer.
There, even though Brazil's President Luiz Lula loves OLPC, Colin Brayton reports that:
The federal government plans to open an international competition, in the second half of 2007, for the purchase of 150,000 low-cost portable computers to be distributed to students at public schools.

"The idea is that children should have laptops by March of 2008," said Cezar Alvarez, special adviser to the president and coordinator of Digital Inclusion Programs, during the 51st Telebrasil Conference in Costa do Sauípe, Bahia.
Expect there to be a few entrants, price-focused and hard-nosed, going after that 150,000 unit initial order. Entrants that took the
original OLPC mission
at its word: "we would also be delighted if someone built something better, and at a lower price."