Back in October we reported that there would be a OLPC Children's Machine XO vs. Intel Classmate PC battle in Brazil. Now that Intel has upped the ante and donated 700+ Classmates, other experts are starting to compare the two laptop's feature set.
But don't be mislead by megabytes or operating systems. If you just look at the technology, the OLPC is far superior; it is truly a revolution in laptop design, not Intel's small evolution. Better yet, don't even focus on the technology at all. Take Nicholas Negroponte's advice - think about the two systems as education projects, not laptop projects.
Then you'll really note the starkly different implementation approaches between Intel and One Laptop Per Child.
At the most basic level, Intel is designing the Classmate PC to be an educational tool controlled by the teacher. Intel says it the best in its Intel World Ahead, Brazil press kit: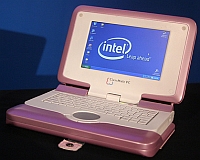 The Classmate PC platform is a teacher-student computing solution designed to serve the educational needs in developing countries.

The platform brings a complete hardware and localized pedagogical software solution that enables classroom and content management. This is being achieved through interaction with local pedagogical content providers and educators.

Classmate PC is made of three key elements, a small form factor, affordable and rugged notebook designed for students, a teacher console unit, and a complete integrated software management solution.
One Laptop Per Child has a whole different outlook, based on Semyor Papert's "Constructionist" philosophy. According to the shockingly thin 1,200 word, Learning Vision on the OLPC Wiki, laptops will enable children to "learn learning" and liberate students to "actively engage with others with similar interests in cultures of learning" without much in the way of detail or real-world justification.
The Learning Vision also suggest that teachers, freed from the need to teach, will then "focus their experience and expertise where most needed," with those needs and roles undefined. That OLPC implementation plan can be visualized with this simple graphic:


And so I'll say it again, when it's Classmate PC vs. OLPC XO, Intel's Classmate PC technology is only a cheaper laptop. It is not the paradigm shifting technology of the OLPC XO Children's Machine. However, Intel's World Ahead implementation methodology is just that - a world ahead of the One Laptop Per Child's drop it off at the country's door delivery plan.