Contribute to OLPC News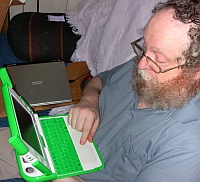 Ed Cherlin: an OLPC News writer
Does One Laptop Per Child excite you? Do you want to share your passion with the five thousand daily readers of OLPC News? Highlight your opinions on OLPC deployment progress? Or announce your own local XO user group?
Then don't be shy. Don't delay. Email us a Guest Post today!
As you express your learned opinions and ideas blog-style, in on-topic posts of 200-400 words, complete with quotes, links, and photos, you'll be joining a distinguished group of talented writers, commenters and contributors that span the globe.
OLPC News authors also span a spectrum of thought, from fanboy to critic, striving to keep OLPC News your independent source for news, information, commentary, and discussion of the One Laptop Per Child endeavor.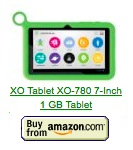 XO Tablets for Sale
Buy Your XO Tablet on Amazon.com
OLPC is selling the new XO Tablets on Amazon.com for just $149. Buy yours today!
Discussions
Change the world of technology as it is happening every day because we are enjoying the new tech …

One thing I forgot to ask in my article - for anyone else who has an XO Tablet - whats the story …

Hi, the xotablet is saying: unfortunately, xo home has stopped.
what does it mean. It no l …

You need to consider inflation.

$100 of 8 years ago are more than $150 today after real …

Hey Caryl

Just wondering if you can do a follow up on your first mail, am torn between a …

wow. haven't seen thepete in a few years. Nice to see the commentary. I wish there was FLOSS app …

Just as a thought regarding the asence of good writing software... ABIWord allows text input fro …

Great questions: projector, optical mouse, standard keyboard. Not yet familiar with mini- USB co …

Review addendum

A friend asked if a keyboard or mouse could be hooked up the XO Learning …

I looked at projectors that Brookstone offers. If the projector uses HDMI, the XO Tablet will wo …

Very grateful for this meaty review and intend to chew on it thoroughly in due time. Interested …

Hi, Guest Writer.
Thanks for the comprehensive review.
I am trying to get XO1s but h …

I find this blog post to be filled with opinion and somewhat short on useful (read: objective) c …

I know, this forum is closed but still...
Thanks for reading OLPC News!