his claim
that OLPC is about eliminating poverty:
"But what One Laptop Per Child is, it's about eliminating poverty. And that's the reason we do it, that's why everybody who's involved in the project is involved with it. And the belief is very simple.

That is that you can eliminate poverty with education, and no matter what solutions you have in this world for big problems like peace or the environment, they all involve education. In some cases, it could be just with education and in no case is it ever without education. And we particularly focus on primary education."
As I mentioned in my last posting,
OLPC and Education Reform
, I am
Robert B. Kozma, Ph.D.
, an international consultant on technology in service of developing countries. I have just returned from Kenya where I had an opportunity to reflect on the claim that OLPC is about eliminating poverty.
For the past two years, I have been working with the Education Committee in Sauri, a set of rural villages of about 5,500 people in western Kenya. I have served as a pro bono (or should that be pro-Bono) consultant to the Committee members as they formulated their plans for a community learning resource center. I have also supported their efforts by donating a dairy cow to the school lunch program, providing scholarships, and purchasing equipment and supplies for the center, including books, a digital camera, and a laptop.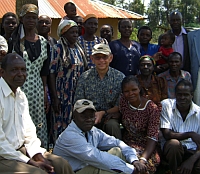 Sauri education committee
Approximately 67% of the people in Sauri live on less than $1 a day. Most are subsistence farmers, growing maize, beans, tomatoes, onions, and kale. Until just a few months ago, there was no electricity in Sauri. There is now an electrical line to the clinic and soon there will be one to the learning resource center.
Economic development efforts in Africa will have to address the needs of people like those in Sauri because 70-80% of the labor force in most Sub-Saharan countries is in rural areas. And poverty is the highest in the rural villages of Africa.
Furthermore, the dramatic increases in economic output and standard of living that we are seeing in countries like China and India were built on twenty years of increased farm productivity in the rural areas. Africa has yet to experience this Green Revolution. In fact, during the last twenty years, agricultural productivity in Africa has actually dropped each decade and hunger has increased.
Given this context, it is perhaps not surprising that members of the Education Committee in Sauri want to build a community learning resource center that can help them increase the productivity of their farms and improve their lives.
The Committee's emphasis on this learning center is particularly appropriate since 90% of the students in Sauri do not go beyond primary school--not because they are incapable or unmotivated but because their parents can not afford the tuition and uniforms. So the Education Committee sees the center as a means to provide education for out of school youths as well as adults.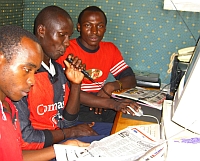 Nakaseke community radio station
In planning their center, the Committee members wanted to know how technology might be used to achieve their goals. In response to their interests, I visited eight community telecenters in Uganda, Tanzania, and Kenya; interviewed the managers, staff, and community users; and then returned to Sauri to report what I learned and make my recommendations to the Committee.
While technology was a common feature of all these telecenters, the key was the role that it played in providing villagers with access to needed information and the means to communicate it.
I found computers in all the centers, but bicycles, books, cell phones, community radio stations, and video tapes were also used to obtain and share information. This information often related to farm practice and productivity: information on seeds, planting, fertilizing, weeding, and harvesting, as well as animal breeding, feeding, and treatment of diseases. Information on current market prices was also highly valued. But desired information also included that on water harvesting, energy efficiency, education, health, nutrition, culture, local news, and even national sports.
Like Nicolas Negroponte--and the villagers of Sauri--I believe that technology has a role to play in supporting economic development in Africa and reducing poverty. But my conclusions about how technology should be used are quite different than those of Negroponte.
Based on my research in other rural villages, I recommended that the Sauri community learning resource center be equipped with a variety of means of obtaining information that was needed by the community. This included books, magazines, videos, and a single computer with access to the Internet.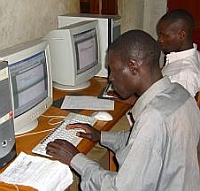 Nakaseke village telecenter
In addition to making these resources available to villagers as a means of distributing information, the center should also use a low-wattage radio transmitter. They should also set up small satellite centers in various locations across the geographically dispersed set of villages that constitutes Sauri and equip them with a radio receiver and a cell phone that villagers can use to call into the telecenter with their questions.
Finally, a key to the success of the center is having a manager who is not only technologically skilled but familiar with the informational needs of the villagers and is capable to searching the vast resources of the internet to meet these needs.
So to return to the issue of OLPC and economic development, it is important to start with an understanding of what people need and their context rather than what the technology can be made to do. Taking this perspective, it is not clear that the widespread distribution of computers to children is the way to eliminate poverty in Africa.
Rather than spending hundreds of millions of dollars on XO machines, wouldn't it be better and cheaper for national governments to support rural villages in their efforts to set up and staff internet-connected community telecenters where villagers have access to the information they need to improve their livelihoods and their lives?