Ever since Nicholas Negroponte realized that Presidents loving OLPC laptops doesn't equal Ministers buying XO's I've been waiting to see what the participating countries' request for proposals (RFP's) would look like.
These competitive RFP's are the method by which every honest government purchases goods or services, especially millions of dollars worth of goods, and I fully expect One Laptop Per Child will need to first get countries to issue RFP's. Then, once governments have an outstanding RFP, OLPC can respond with the best one-to-one computing solution.
In a surprise move that somehow slipped past me, Uruguay has issued the first Request for Proposal that I know of as part of Ceibal (Conectividad Educativa de Informática Básica para el Aprendizaje en Línea). Here are the RFP's in Spanish and English.
If you read the RFP closely, you'll note the same interesting tidbits that Pablo Flores found:
It's not only for buying laptops. It also asks for software, school servers, connectivity devices and a proposal for qualification, support and maintenance.

3 configurations of schools (of 150, 450 and 750 students) are proposed, so that offers include laptops, servers, connectivity, etc. This is fundamental to analyze different technological options (for example connectivity with mesh network Vs. solely through Access points)

It looks for buying 100,000 computers, to be solicited in different stages.
For me, I found the RFP's lack of focus on educational content and teacher training to be shocking. No where does the RFP specify what kinds of educational content should be included, not even hinting about the OLPC XO's ability to be an ebook viewer for a
Library of Alexandria
. It's as if the government of Uruguay does not care if the computer solution they seek has any content at all.
In addition, there is only the slightest hint that the supplier should teach teachers and other educators how to employ the winning technology in the classroom. In fact, there is only one sentence about teacher training in the entire RFP:
Teachers will be trained in the use of these tools and the elaboration of new educational proposals in agreement with them will be stimulated.
Did the Uruguayan government know about the
ICT-in-Education Toolkit
to develop and evaluate technology projects for schools or does it expect the educational system to experience
an implementation miracle
when the winning solution arrives?
And let us not be coy. The whole RFP reads like a description of the OLPC Children's Machine XO. It's as close to being rigged for One Laptop Per Child to win as can be expected without outright naming OLPC as the preferred supplier.
Now that doesn't mean that OLPC will win - they will have to change their order minimum down to 50,000 or 100,000 maximum and they will actually have to successfully respond to the proposal - both tasks that have tripped up the best technology companies before. In addition, the RFP also defines a need for a school server, which OLPC claims to have but has not released specifications about.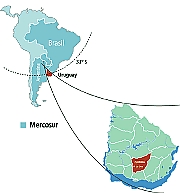 Uruguay has seemingly specified where the first batch of computers will go: Florida. The Uruguayan Florida, not the American state. Pablo Flores reports that:
This means giving computers to all its kids and teachers, as well as providing connectivity infrastructure in all its schools and in as many homes as possible.

I don't have the exact numbers now, but we are talking about more than 100 schools (many of them called "rural", with only one classroom and one teacher), about 500 teachers and 10,000 kids. The total population of Florida is close to 70,000, half of whom live in the capital city Florida, most of the rest live in smaller cities, and 12,000 live in rural areas.
An expansion of one-to-one computing of that size will be first, for Uruguay and the world. And it will be quite interesting to see who will be leading the expansion once the RFP bids are opened on July 27th.