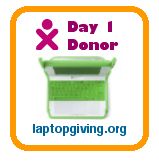 Sport a First Day Donor badge!
Are you this OLPC G1G1 cool? Did you just get a
"first day" donor email
from One Laptop per Child that says:
Thanks to your early action, your XO laptop is scheduled to be delivered between December 14 and December 24. Our "first day" donors are our highest priority and we are making every effort to deliver your XO laptop(s) as soon as possible. We will send you an update upon shipment.
If you did, give a shout out in the comments below with your order date. Let's see who is going to be the first kids on their block to get an OLPC XO laptop.
CANADA UPDATE: If you are a Canadian G1G1 participant but didn't get a FDD email, a commenter suggests you try calling OLPC G1G1 toll free at 1-877-705-2786 to confirm that your online PayPal payment has been received. A quick call to OLPC's donation line can get you a confirmation number and assurance of December 14-24 delivery.
FRAPPER MAP UPDATE: Thanks to Joe we now have a OLPC Community Frapper map
USA XO SHIPPING UPDATE If you are a G1G1 particpant in the USA, here's your shipping schedule. Sorry Canada.