When I unboxed the XO Tablet, I wasn't sure how my two toddlers would react to the newest technology from One Laptop Per Child. They never did like the XO Laptop, nor the Nexus 7 for that matter. They were iPad addicted pretty much since birth.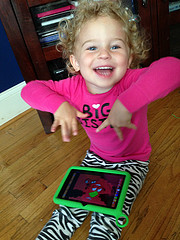 But then I bought them a new XO Tablet for $150.
Wow! What a difference a touch screen makes, especially with a plethora (over 160!) educational software applications to choose from. The girls quickly found a color application and started taking turns coloring a toucan.
While this video may seem pedestrian, it's actually amazing to see them get excited over a new technology and take turns using an application. With the iPads, there isn't much interaction they like to share - its mainly mind-sucking movies. So I was very happy to see how quickly the XO Tablet moved them from passive consumers to active producers.
Let's see what their engagement is like on Day 2...
PS: Check out the unboxing and usage pictures here. We'll be posting thoughts and observations on the XO Tablet all week. Drop us a line if you'd like to write your own post on your thoughts about the XO Tablet - we always publish everyone's opinions.