Resumen en español al final del artículo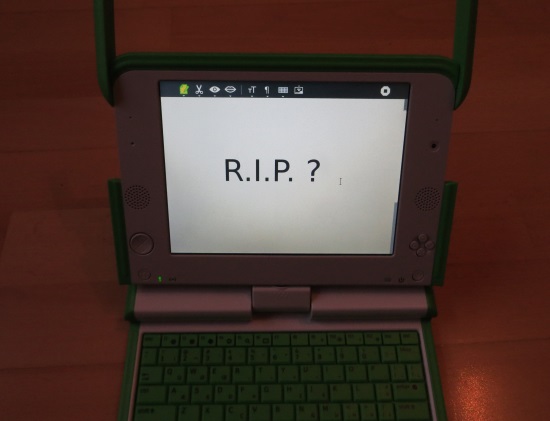 It's been great to read Wayan's thoughts on the XO Tablet and see the photos and videos of his daughters taking the tablet through the toddler-approval process.
However when I read "The XO Tablet Just Killed the XO Laptop", I couldn't help but start up a text editor to write this piece. Why? Because I think the XO Tablet has some significant limitations when used in schools and developing countries.
Now, based on Wayan's comments I think it's clear that the XO Tablet comes with a lot of good content. In its current form that means good content for North American toddlers and children (and their paying parents). And as a recent press release indicates the 8,000 XO Tablets going to Uruguay will come preloaded with local content. It's good to see that such mass-customizations for the requirements of large orders are possible.
It's however much less clear how an individual would go about adding content and apps. Yes, I know that the XO Tablet has access to the Google Play store. But:
What about teachers who want to make an app available to all the students in their class or school?
What about XO Tablet owners who don't have a credit card to purchase apps?
What about environments without Internet access?
I think these three issues essentially describe the situation most potential XO Tablet users in schools and in developing countries find themselves in. With its Google Play for Education efforts Google is trying to address the first two issues. However the online store will only see its initial launch in fall 2013 and its website clearly says that:
"At this time, you should include your app in Google Play for Education only if it is targeting the US K-12 market."
Oh, and yes, mobile carrier billing and Gift Cards also do exist for Google Play however only for about a dozen countries.
As for the last issue: Even in the future I simply can't imagine a Google Play store which works without Internet connectivity. Android's very existence is based on the premise of getting more users online and connected to one of Google's many services. So I see zero incentives for Google to make an offline store available.
The reality today - and for the foreseeable future - is that the Android ecosystem (which the XO Tablet is built on) is designed with individual users with an Internet connection and credit card in mind. And guess what, that's quite far away from the reality of schools and developing countries today - and for the foreseeable future.
It's going to be very interesting to see how Uruguay addresses these issues in the aforementioned upcoming evaluation with 5- and 6-year-olds (which means pre-school and grade 1 pupils respectively).
In the meantime I think it's important to emphasize that the XO Tablet and the XO laptops were designed with very different environments, users, uses, and goals in mind. So at this point I personally would be very cautious to recommend the XO Tablet over the XO laptops to anyone planning to use them in schools or in developing countries.
---
Resumen en español: Ha sido genial para leer los pensamientos de Wayan sobre la XO Tablet y ver las fotos y los videos de sus hijas usandola. Sin embargo, cuando leí el articulo del jueves llamado "La XO Tablet acaba de matar a la XO Laptop" no podía dejar de poner en marcha un editor de texto para escribir este artículo. ¿Por qué? Porque creo que la XO Tablet tiene algunas limitaciones importantes cuando se utiliza en las escuelas y en los países en desarrollo.
La realidad hoy en día - y en el futuro inmediato - es que el ecosistema de Android (que la XO Tablet está basado) está diseñado con los usuarios individuales con una conexión a Internet y tarjeta de crédito en cuenta. Y adivinen qué, eso es bastante lejos de la realidad de las escuelas y de los países en desarrollo en la actualidad - y en el futuro previsible. Mientras tanto, yo creo que es importante destacar que la XO Tablet y la XO laptop fueron diseñados con ambientes, los usuarios, los usos y las metas muy diferentes en mente.
Así que en este momento yo personalmente sería muy cauteloso al recomendar la XO Tablet en vez de las XO laptops a cualquiera que esté planeando usarlas en escuelas o en países en desarrollo.