Resumen en español al final del artículo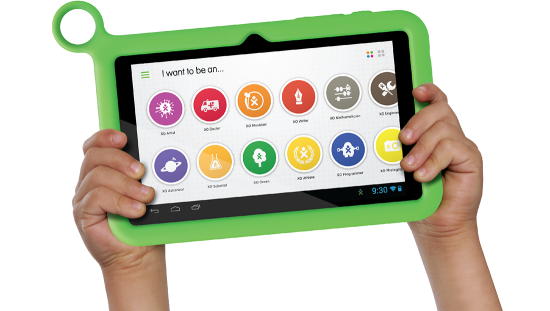 Ahead of next week's Consumer Electronic Show in Las Vegas - an event which OLPC Association has repeatedly used for making announcements in recent years - Brad Linder from liliputing.com reports that OLPC Association and Vivitar will release a slightly updated version of the 7" XO Tablet. Additionally they will add a 10" version of the XO Tablet to the lineup.
Brad's article says that the updated 7" XO Tablet is expected to cost $150 whereas the 10" version should cost $200. There's no information on when these new tablets will become available and if they'll also be available outside of the United States.
As the comparison table I put together below shows the hardware upgrades compared to the currently available 7" XO Tablet are quite small. In fact the only core component that received a significant upgrade is the CPU which is reported to be a quad core model with an unknown frequency as opposed to the currently used 1.6GHz dual core version. The front and back cameras also received upgrades to more up-to-date specifications. The 10" version is reported to additionally include a GPS module and a larger battery.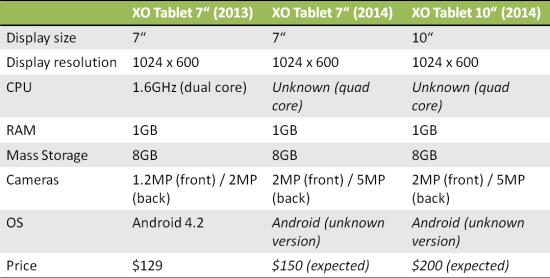 Brad also writes that:
Vivitar says optional accessories will include a wireless keyboard and a few things you don't normally see marked as tablet accessories, including a digital microscope with up to 300x magnification and a digital telescope with up to 200x magnification.
The addition of these accessories doesn't come as much of a surprise given that OLPC Association showed off a microscope (which upon closer inspection looks to be this $27 AGPtek-branded model) and the telescope designed by the French Academy of Science to Engadget all the way back in May of 2013. At the time they were discussed as accessories for the XO-4 laptops but I assume that the accessories will be quite similar to what was shown back then.
At this point it is unknown whether the new XO Tablet's will also come with an updated version of Android and/or additional content accessible via OLPC Association's Dream interface.
Overall the upgrade of the 7" XO Tablet is nice but very incremental and hardly anything to call home about. The introduction of a 10" version might potentially attract some additional buyers although the reported 1024 x 768 resolution is definitely on the very low-end for such a large display. I'd say that based on the currently available information these announcements don't significantly improve the XO Tablet lineup's value proposition compared to other consumer products. But then again, it's not like the upgrades hurt it either.
So if you're interested in purchasing an XO Tablet then I'd suggest taking a look at one of the dozen or so articles we've published in which different people shared their experiences and impressions of the device, software, and content.
---
Resumen en español: Por delante del Consumer Electronic Show en Las Vegas - un evento que OLPC Association ha utilizado para hacer anuncios en los últimos años - Brad Linder desde liliputing.com informa que la OLPC Association y Vivitar lanzará una versión ligeramente actualizada del 7" Tablet XO . Además se va a agregar una versión de 10" de la XO Tablet. El artículo de Brad dice que se espera que la actualizacion del 7" XO Tablet va a costar 150 dólares , mientras que la versión de 10" debería costar $ 200. No hay información sobre cuándo estas nuevas tablets llegaran y si también estarán disponibles fuera de los Estados Unidos.
En general, la actualización del 7" Tablet XO es bonito pero muy gradual y no muy excitante. La introducción de una version con 10" podría potencialmente atraer a algunos compradores adicionales aunque la reportada resolución 1024 x 768 es en la gama baja muy para una pantalla de este tamaño. Yo diría que en base a la información disponible en la actualidad estos anuncios no mejoran significativamente la propuesta de valor de los XO Tablets en comparación con otros productos. Pero al mismo tiempo no es que las mejoras lastiman tampoco.