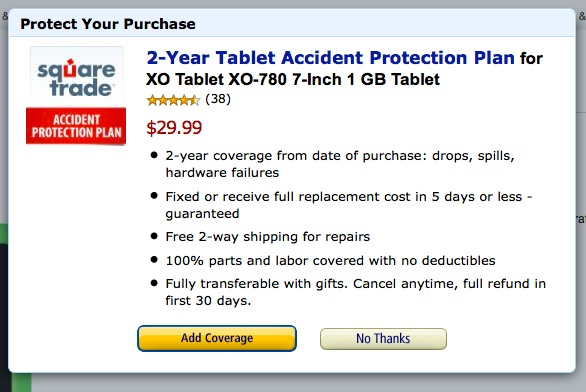 Right after you buy a $150 XO Tablet on Amazon, you are asked if you'd like to buy a SquareTrade 2-Year Tablet Accident Protection Plan. Regardless if you buy it or not, that little offer is an amazing innovation for One Laptop Per Child.
When Nicholas Negroponte was asked about support and maintenance for the XO Laptop back in 2006, his famous quip was that "children would do it" - maintain the XO Laptop all by themselves. While that may be possible in theory, the reality was upwards of 20% failure rates and closets full of broken XO Laptops.
Now, with the SquareTrade warranty, you don't need to worry about leftover screws after a drunken XO repair - just drop the XO Tablet in the mail and it will magically reappear a few days later just like brand new.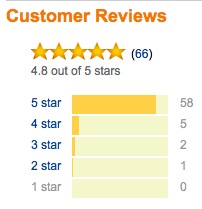 The SquareTrade warranty covers all manner of accidents, even running over the XO Tablet:
2-year coverage from date of purchase for drops, spills, and hardware failures
XO Tablet fixed or receive full replacement cost in 5 days or less - guaranteed
Free 2-way shipping for repairs
100% parts and labor covered with no deductibles
Fully transferable to new owners.
Worldwide coverage, just submit a repair receipt
Cancel anytime and a full refund in first 30 days.
Oh, and if you are wondering how good the warranty support is, just check out its amazing rating on Amazon. I wish I had marks that good with my work!
PS: Check out the unboxing and usage pictures here. We'll be posting thoughts and observations on the XO Tablet all week. Drop us a line if you'd like to write your own post on your thoughts about the XO Tablet - we always publish everyone's opinions.