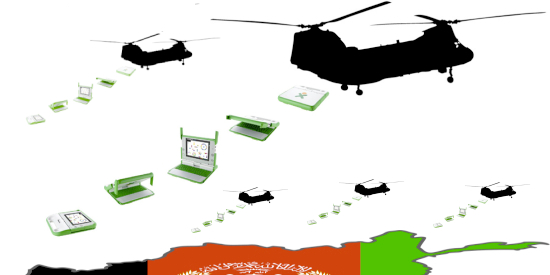 After 5 years of following One Laptop Per Child on a daily basis, I have come to the conclusion that Nicholas Negroponte must be crazy. That is the only way I can explain his continued insistence on pursuing implementation miracles with his "Gods Must be Crazy" deployment plans.
How else could he disregard thought leaders who all agree that ICT should only be 10% of a solution - that infrastructure, maintenance, content, community, teacher training, and evaluation should command more attention and resources than XO laptops? We've certainly pointed out that the OLPC model fails at a large scale, while the inclusive model succeeds.
But why believe us? Nicholas can read independent studies that confirm XO laptop-only programs fail or look at OLPC's own showcase pilot failures.
And yet he is still talking about dropping XO laptops from the sky. Just listen to him at the United Nations Social Innovation Summit 2011 at around the 1 hour mark:
So you've got a hundred and fifty to two hundred million kids [not going to first grade], and so here's the question: Can you, either literally or metaphorically, drop out of a helicopter, which is exactly what we plan to do, with tablets into village, where there is no school, but there's kids, at least eight to ten kids?

And then go back a year later - are they reading? And if the answer is yes, that would be transformational. Then people might pay more attention. And then it would apply to places where there are schools, so on and so forth.
Has Nicholas not yet learned that this model does not work? Does he have to see the discarded XO laptops himself? Or will he get his wish and see a million XO's falling from the sky across Afghanistan? XO brain bombs full of misplaced hope.