Do you remember the massive press orgy a year ago when One Laptop Per Nigerian Child debuted at L.E.A. Primary School Galadima in Abuja Model Village? How the great Foreign God held high his gift of knowledge to the poor dark-skinned children of Africa, and OLPC proclaimed:
All of a sudden, School Galadima has gone from the age-old chalk-and-board teaching technology to the avant-garde one-laptop-per-child XO technology with cutting-edge features.
Well let us take a look at the lessons a year of Nigeria has taught One Laptop Per Child.
Porn Panic is Real
At first, OLPC dismissed parental concerns around content control, likening it to censorship, and discounted the real issue of online pornography. Yet, not three months into the pilot, we had a One Porno Per Nigerian Child scandal, with Reuters Africa reporting:
"Efforts to promote learning with laptops in a primary school in Abuja have gone awry as the pupils freely browse adult sites with explicit sexual materials," NAN said.

A representative of the One Laptop Per Child aid group was quoted as saying that the computers, part of a pilot scheme, would now be fitted with filters.
The porn filtering efforts continue today, with BluePrint Data's
Kidsnet filters on the XO
to try and keep children and nudity separate.
Electricity is Expensive
Does anyone remember the hand crank? That masterful bit of marketing set up OLPC's local partners to be blindsided when they had to start paying for generators and diesel to power XOs and Internet routers. The shocking electrical power costs quickly added up.
From the Nigeria Chapter of the Club of Rome, we learn that the generator has to be stored in the principal's office to prevent theft, requires costly gasoline, and servicing that can take days. Worst of all, the generator broke down, burning out the UPS for the Internet, and its still insufficient for all the power needs of the school.
OLPC is a Target
Despite its feel-good image and noble cause, OLPC is not immune to local politics and predatory practices. First, the Nigerian government was persuaded to buy Classmate PCs instead of XO laptops, through a web of influence from traditional PC vendors.
Next, Lancor sued OLPC for an alleged multilingual keyboard patent infringement. No matter if it was just a scam, the effect was chilling. OLPC's ethics were questioned and its Nigerian sales hopes were quickly dashed as it tried to clear its name in local courts.
Overall Result
One Laptop Per Child did bring international attention to L.E.A. Primary School Galadima. Everyone from concened technologist to the BBC paid a visit, enriching the children's lives with much excitement and distraction.
But what about the XO laptop use now? What educational outcomes are the children and their teachers and parents realizing? Let's have Wizzy Africa explain: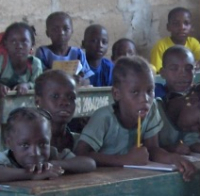 No XO laptops in sight
Now the bad news. There are no longer OLPC laptops at the school. One of the consequences of being a pilot school for OLPC was that they were issued with beta hardware, and there were many problems with the unit, from cables coming unplugged, the wireless network disconnecting, and hardware failure.

In preparation for its replacement, the hardware was withdrawn in December 2007. However, at that point, there was a lawsuit filed against OLPC by a Nigerian keyboard maker, claiming infringement of layout and something about keyboard scancodes. As a consequence - the children are still waiting for their replacements.
I fear they will be waiting much longer too as Nigeria has subsequently
canceled its participation
:
Dr Aja Nwachukwu, the Education Minister, told newsmen in Abuja that the scheme was discovered to be a "white elephant" project. "We discovered that the scheme is a conduit pipe to siphon public fund," he said.
Of course, OLPC leadership previously implying that Dr Aja is a "
small thinker
" probably didn't help, either. The last lesson for OLPC to learn from Nigeria? Don't insult your buyers.