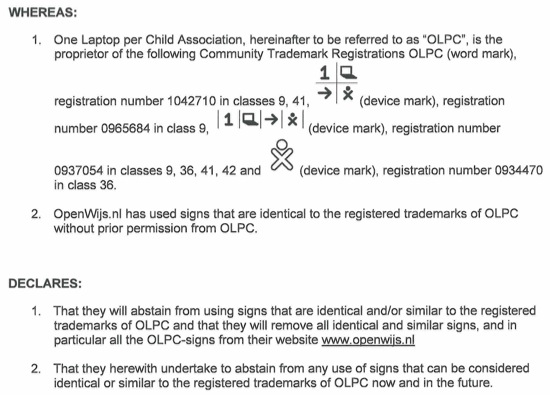 It what only can be described as OLPC eating its own, the OLPC Association is taking legal action against programs that are trying to implement One Laptop Per Child deployments. They have asked the Dutch Patent Office to enforce its trademark rights against OpenWijs.nl, which is run by longtime OLPC supporter and advocate Frits Hoff.
Here is the email from Frits, Chair of the foundation OpenWijs.nl, who is rightly flabbergasted that OLPC Association would do such a thing to a organization like his.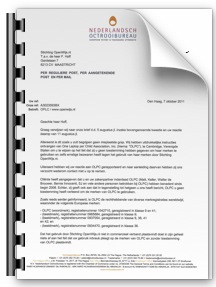 To our surprise we received a letter of the Dutch Patent Office [English translation]. We need to stop IMMEDIATELY using the logo and name of OLPC in our website and all other media. I called Walter de Brouwer but he didn't know anything about this letter.

We answered the office that we had contact with many people inside OLPC and it was never a problem. And that we use the XO´s in a non-commercial way, only people who want to do projects with it or want to support it can buy one for the same price as we do. Unfortunately this didn't help anything, we received a second letter, see attachment.

At the meeting with Matt Keller at Schiphol airport March 19 2008 Matt gave me and Harrie Vollaard the right to use the logo and brand of OLPC in a non-commercial way. Unfortunately not on paper.

That´s why I started the foundation OpenWijs.nl to manage OLPC projects in 10 developing countries. We do this with a lot of volunteers and it takes not only a lot of time and energy but also money.

As you can imagine we are very disappointed about this action and we would like to know who is behind this action and why this is done?
What next? Will OLPC Association demand that other deployments also stop using OLPC images? Or go after Sugar Labs usage of XO laptop designs?
Coming after Nichols Negroponte again demands to toss XO's out of helicopters, I can only conclude that OLPC has lost its mind.