Today is the American holiday of Thanksgiving - a day we give thanks for the bounty in our lives. And today I give thanks to One Laptop Per Child for opening up Give One Get One XO laptop sales to the world.
Now you can G1G1 in Europe, Asia, Africa & Americas with a major F.A.Q. change: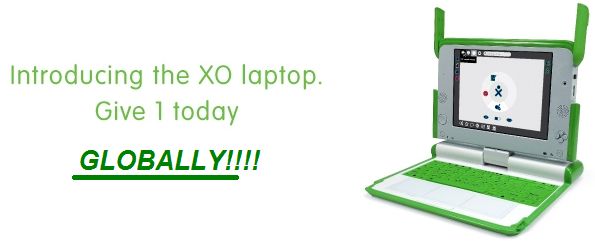 If I live outside of the US or Canada, may I participate in Give One Get One?

Yes, but only if you provide a shipping address within the US or Canada. To participate, please call 1-949-608-2865. International calling charges will apply.
Geeks worldwide, you read that right,
G1G1 is now global
! Now everyone can participate in the geek dream of 2007: One Laptop Per Child XO-1 computer ownership regardless of country or currency.
And why did this change happen? OLPC might have their story already set, but I say G1G1 changed because Gabriel Morales's desire to have One Laptop Per Child XO-1 laptop for all children became a global issue that demanded attention.
Yet another OLPC News common sense influence on One Laptop Per Child.