On Monday morning, Give One Get One will start in the USA and Canada. Excited geeks and concerned parents will buy a XO-1 laptop for a child in the developing world and get their own "$100 laptop". And yet it will be a sad day for many OLPC News contributors and commenters.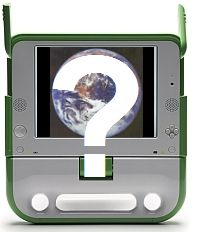 OLPC is limiting G1G1 to only those lucky enough to live north of the Rio Grande, excluding geeky friends and needy families in Europe, Asia, Africa and the rest of the Americas. Why would OLPC geographically discriminate? Denying not only a huge groundswell of supporters from participating, but also rejecting the very population it aims to serve - people in the developing world.
On the OLPC wiki Xavi says that G1G1 limitations have more to do with logistics, support and other bureaucratic reasons that apply to international commerce of electronic equipment than OLPC being geo-snobs. But not everyone believes that argument. An anonymous poster asks the very question I have:
Why don't OLPC just do this themselves using a transatlantic courier? Transatlantic trade isn't a new idea... If they don't have the human resources or expertise to negotiate a deal, they could just encourage discussions like this one about the best way to get them shipped over individually, and put the most highly recommended links and tips on their official site.

Surely anything is better than a vaguely implied flat-out "No" to the 93% of the population of the world who aren't in Canada or the USA?
Here at
OLPC News
, I've been thinking about a possible solution to take G1G1 globally if One Laptop Per Child will not eliminate its arbitrary G1G1 geographic restriction. How a domestic American shipping company can let you participate in the geek dream of 2007: One Laptop Per Child XO-1 computer ownership regardless of country or currency.
Sign up with a mail forwarding service to receive your XO
On November 12th, 2007, order your own Children's Machine XO-1
Select the mail forwarder address as the "Ship To" location
Send your shipping address & international postage to the mail forwarder
Get your very own OLPC XO laptop!
This way we can have
connected families
and
joyous geeks
from Argentina to New Zealand experiencing a One Laptop Per Christmas Tree.
G1G1 Update:
One Laptop Per Child has now officially made Give One Get One Globally with the following change to the G1G1 FAQ:
If I live outside of the US or Canada, may I participate in Give One Get One?

Yes, but only if you provide a shipping address within the US or Canada. To participate, please call 1-949-608-2865. International calling charges will apply.
Do note that in addition to a US/Canada address you also need to give a phone number and/or email address that corresponds to the address.