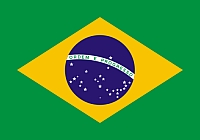 Brazil is on! Guilherme Felitti on IDG Now Brazil is reporting that the Brazilian government will receive 50 test laptops from OLPC. From a Bablefish translation:
The special assessorship of the Presidency, agency of the responsible government for the choice of the platform to be used in the national education, waits to receive the equipment "close to day 15" from November.
Brazil would be the first country to have working models, which the OLPC developers are working franticly to finalize. You can follow their discussions on the
OLPC developer message boards
.
There, it's a wild race to the deadline, with new builds coming in every day, making new problems as they fix older conflicts. No matter the chatter, I'm confident the technology whiz kids will deliver a One Laptop Per Child $100 laptop CM1 2B1 XO Children's Machine, and be quick in fixing bugs with secure update methods.
The larger question will be how the 2B1 Laptop compares to the Classmate PC in a classroom setting. Brazil is testing both education tools, and has an undisclosed amount already set aside in its 2007 budget for educational laptop purchases.
No matter who wins that contest, the OLPC leadership might want to re-connect with its team in Thailand asap.
There, the military coup risk for OLPC sales seems to be rising. Songphan Choemprayong interprets a Than News article about the OLPC roll-out in Thailand and sees trouble:
The new ICT minister of the junta government said he doesn't believe that the [OLPC laptop] program would work. If the government would want to buy a computer for kids, the quality/performance should be better than that, not just like a "toy"."
Kamthorn, a OLPC Thailand team member
, the OLPC team was not able to meet with the new minister before the Than News article, so the Minister could be persuaded to change his mind.
Unfortunately for OLPC, the Children's Machines were closely linked to disgraced ex-Caretaker Prime Minister Thaksin Shinawatra. Thaksin was a proponent of the OLPC project, announcing in August that laptops would replace books in Thai schools.
Now the OLPC Thailand team will need to not only prove that Children's Machines work and are worth the $208+ million dollar minimum purchase price, but also that the OLPC program is worthy of support no matter who is the future Prime Minister of Thailand.