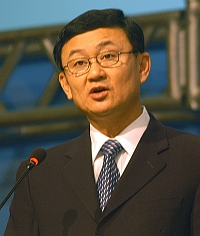 Yesterday, we learned that Thailand's Caretaker Prime Minister Thaksin Shinawatra announced his country will test 530 laptop prototypes in October and November.
Today Malaysia's Star is reporting this interesting quote from Prime Minister Thaksin:
"Each elementary school child will receive a computer that the government will buy for them, free of charge, instead of books, because books will be found and can be read on computers''
Huh, so with the OLPC laptop there will no longer be a need for books in Thailand's schools, eh? Am I the only one deeply uncomfortable with that idea?
I am no Luddite, I love me some technology and I am even considered a Geek professionally, but do away with physical books? Now that's crazy!
From the very basic, the book being able to transmit knowledge without the need for electricity, screens or even an operating system, to information security, as its hard to re-write a book but easy to change the Wikipedia, books, and more broadly, the physically written word has been the foundation of knowledge since the invention of cuneiform a few thousand years ago.
And now to toss aside books so casually, to think the beauty of paper, the utility of print, the mobility of books can be replaced in the classroom by a laptop? Better yet, a cheap laptop? With all due respect, Caretaker Prime Minister Thaksin Shinawatra you're smoking too much Thai special weed.
Oh and you better start investing in world-class optometrists, at the very least that next generation of Thais raised on laptop screen resolutions, dual-mode or not, are gonna be needing eyeglasses now that they will be squinting at flickering screens instead of solid print.
KEYWORDS:
One Laptop Per Child | Books | Thaksin Shinawatra | Malaysia Star