Resumen en español al final del artículo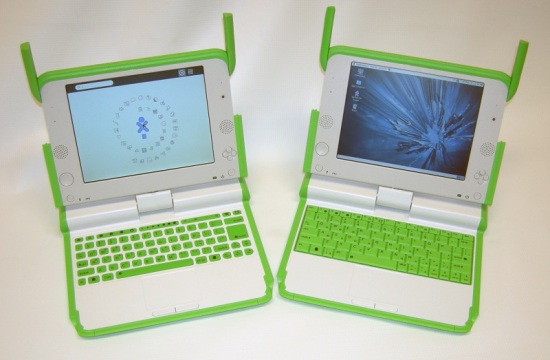 Earlier this month SJ Klein (OLPC Foundation's Director of Outreach) posted an article called "How to buy XOs in quantity" over on OLPC's blog. In it and the corresponding wiki page he answers what is probably one of the most often asked questions - with the notable exception of "where is the hand crank?" - when it comes to OLPC:
How can I purchase XO laptops?
To get one of the most important points right out of the way let's look at the current pricing estimates for the XO-1.75s. As you can see below it's tiered depending on the order quantity:
100+ XOs: $205
1,000+ XOs: $195
10,000+ XOs: $185
Please do make sure to read the accompanying notes on the wiki page which contain important information:
The minimum order quantity is 1000; laptops in quantities from 100 to 1000 are available upon special request.
Prices are FOB China, for the default laptop configuration (currently International English keyboards and the latest software build.) Prices exclude shipping, taxes, and local import duties; and may change without notice. For a precise quote, contact countries@laptop.org.
What was also new to me is that OLPC now explicitely says that it's also selling XOs to for-profit entities, I had always thought that it only worked with governments and non-profit organizations:
OLPC sells XOs to many kinds of organizations: governmental and NGO, educational, non-profit and for-profit organizations.
It's great to see that OLPC is making this information publicly available. Over the years I had heard so many different price points and purchasing stories that it was hard, if not impossible, to figure out what the real deal was. OLPC being more pro-active in its communication about the purchase details is certainly a step into the right direction and hopefully this also leads to further projects over the coming months.
---
Resumen en español: Al inicio de este mes SJ Klein publicó un artículo llamado "Cómo comprar XO en cantidad" (en Inglés) en el blog de OLPC. Allí y en la correspondiente página wiki (en Inglés) responde lo que es probablemente una de las preguntas más frecuentes sobre OLPC: ¿Cómo puedo comprar XO? La información muestra que los precios son escalonados dependiendo de la cantidad de la orden: 100+ XOs: $205, 1,000+ XOs: $195, 10,000+ XOs: $185. Aparte de los precios, la página wiki también contiene información sobre otros aspectos importantes. Por ejemplo: Los precios son FOB (franco a bordo) desde China, con configuracion basica (teclado en Ingles Internacional y la ultima version de XO). Los precios excluyen gastos de envio, impuestos y gastos de importacion. Los mismos estan sujetos a cambios sin previo aviso. Pero quizás lo más importante es que para obtener un presupuesto exacto se debe contactar countries@laptop.org.
Traducción al español hecho por Cristina Abell.