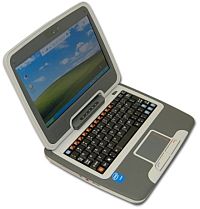 We now have an official Classmate 2 PC. Yesterday, Intel unveiled its second generation Classmate PC at its Developer Forum in Shanghai. The difference,
according to Laptop Mag
:
The Classmate now includes a 9-inch LCD display, a six-cell battery, 512MB of memory, a 30GB HDD, and an integrated webcam.

The second-generation Classmate PCs are built on the Intel Celeron M processor with 802.11b/g Wi-Fi and mesh-network capabilities; future Classmate PCs will be built with Atom processors. Of course, the Classmate PC still supports Microsoft Windows XP, but variants of a Linux-based operating system will also be available.
Hmm, that sounds exactly like the
Classmate 2 for sale in Pakistan
.
Luckily, American consumers can now try out the Classmate 2 also. CTL will be selling the 2Go PC, the commercial version of the Classmate 2, directly to consumers. Look for it today on Amazon.com for $400.
We also have a number of 2Go Classmate PC comparisons:
Laptop Mag's review of CTL's 2go PC: The 2go PC may not be a stellar performer, but considering its intended audience and price, it doesn't have to be. Its rugged design, long battery life, and lightweight chassis all add to this mini-notebook's appeal.
Classmate 2Go Vs. OLPC: But other than those few classroom tools, the Classmate hardly feels like a leap forward in educational hardware as much as a gray, shrunken version of any typical Intel-powered laptop.
Intel Classmate PC (9-inch): The bottom line: Intel tweaked the Classmate PC in its redesign to appeal to first-world schoolchildren, and it offers an experience on par with mininotebooks from Asus and HP.
And last but not least, the
Hands-On with CTL's 2go PC (a.k.a. Classmate 2)
by Joanna Stern:.