I think there might be one less Intel OEM employee today, as we seemingly have the first images of Intel's next generation of the Classmate PC courtesy of a quick Tech Corner camera phone and too many beers: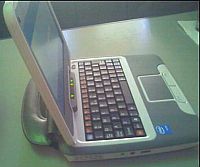 Is this a Classmate 2.0 photo?
My buddy works for a US Based OEM, and showed me a sample of one of the products that will be hitting US shores soon. This thing is sweet, super portable. I estimate it weighs less than three pounds, and has a carrying handle. He told me it was designed by Intel and is for education.

I got on it to check my email and it was running XP Pro like a champ. When he got up for a minute, I snuck some pics of it and checked out the specs. It has a 900Mhz Celeron, 512 Ram, 40GB HD, 9 Inch screen, wifi, and Ethernet. It seems to be about 7" x 9"x 1.5". I asked him how much it was going to cost, and he said he didn't know but would probably be around 400 bucks.
Now the first question Charbax will have is "Where's the Intel
Atom Diamondville processor
?" while I wonder if that $400 price tag is real. Regardless, I'm sure you have an opinion on this mysterious new low-cost laptop entrant and will share it with us right about now.
Update:Thanks to "Made in India" we have a close-up photo and comparison between Asus Eee and the Intel Classmate 2:

The
Self Exile
has more detail on the Classmate PC in India.