Resumen en español al final del artículo
After Archos announced its $129 ChildPad last week I did a bit of research to see which other products had recently been introduced in this space. It didn't take long until I stumbled across this 70-second YouTube clip which shows off an Intel "Learning Series" tablet running Android: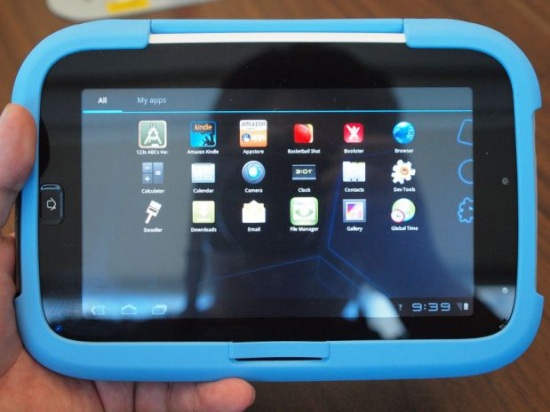 Photo via duckrobot.com
Thanks to Google Translate I was also able to understand most of what the corresponding article had to say about the unit. The key specifications certainly look quite interesting:
Display: 7" with 1024 x 600 or 1200 x 600 resolution (the article mentions both resolutions but I'm tempted to believe that 1024 x 600 is correct)
CPU: 1.2 GHz Z650 Atom (single core)
RAM: unknown (though the sample shown in the YouTube video had 1GB)
Cameras: 0.3MP (front) and 2MP (back)
Weight: 550 grams
Dimensions: 13.5 x 20.7 x 1.65 cm
I/O: 1x full-size USB, 1x 3.5mm audio-out, 1x HDMI, 1x MicroSD, 1x unknown (possibly a SIM card slot)
Extras: WiFi, Accelerometer
Options: Bluetooth, 3G
Aside of these technical specifications the big unknowns at this point are the availability and price of such a Classmate Tablet.
Interestingly the article also mentions that it felt like the tablet had been designed for use with Windows 7 (also indicated by a corresponding sticker visible on one of the photos) as the experience in Android 3.2 Honeycomb apparently wasn't very smooth.
In any case there's no doubt in my mind that unless the price were outrageous such an Intel Classmate Tablet has the potential to become a strong competitor for OLPC's XO 3.0. After all Intel claims that it has distributed more than 6 million Classmate PCs since 2007, more than twice the number of XO laptops which have been shipped so far.
---
Resumen en español: Despues de la introducción del Archos ChildPad la semana pasada me puse a buscar por otros productos parecidos. Dentro de poco tiempo encontré un video y articulo sobre el Intel Classmate Tablet. Las especificaciones son interesantes pero en este momento todavía no se sabe cuanto costará y cuando será disponible. En todo caso creo que a menos que el precio es exorbitante un producto parecido al cual que se mostró acá tiene el potencial de ser una competencia fuerte para el XO 3.0 de OLPC.