According to Walmart's XO Tablet product page the device is currently Out of stock online!
At this point it's unknown how many XO Tablets were purchased since pre-ordering started two weeks ago. It's also unclear what impact this will have on the device's previously announced pre-order shipping and availability in physical Walmart stores which are both supposed to start today. However I assume that Walmart had some significant stock so there seems to be quite some interest in the XO Tablet.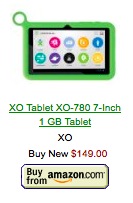 If you want to buy an XO Tablet you now have the option to head over to Target.com or Amazon.com where you can also purchase them.
[Update: You can now also buy XO Tablets on eBay with worldwide shipping]
And as I have already received some e-mails about the legitimacy of these offers: Given that the XOLearning Twitter account (which to the best of my knowledge is an official OLPC account) has posted tweets about the Target.com availability and pre-announced the Amazon availability I assume that they are sanctioned by OLPC Association.
Selling Out
As an aside: While browsing around on Amazon I saw that OLPC Association apparenty also licensed an XO-branded car charger, XO headphones, and XO Tablet Stylus. My first reaction over on Facebook when I saw this was:
No offense but this sell-out of the OLPC and XO brand is now beyond ridiculous. Headphones? Car chargers?? What's next: lollipops?
So in the spirit of constructive criticism here are suggestions for OLPC Association on how to capitalize on the brand even more with three new products and taglines:
The XO Lollipop - Have sugar even when your XO Tablet is out of battery
The XO Journalizer - Keeping track of all your child's online and offline activities with a cute green device and parental dashboard
The XO Ads - Helping your child learn about new brands right on their education tool
And yes, you should take this with a grain of salt... Oh, of course I mean "XO Salt" (Because salt is important for a child's development).
P.S. I'd laugh if it weren't so sad. And absolutely ridiculous! Remember, only 3 1/2 weeks ago Rodrigo Arboleda (OLPC Association's Chairman and CEO) wrote that:
"OLPC believes that it is the educational equivalent to the World Food Program in its mission to feed the poor."
Am I the only one who suddenly feels this strong craving for french fries at Five Guys?