Resumen en español al final del artículo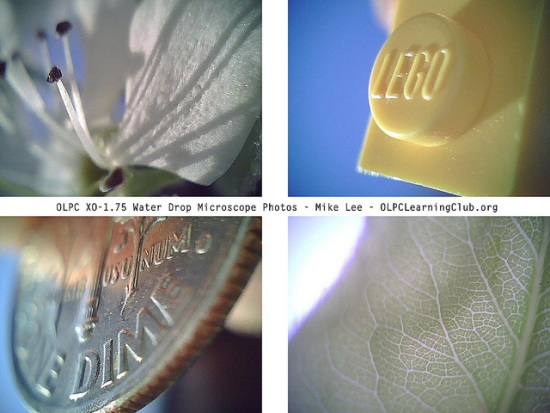 Bill Tuk of OLPC-SF emailed to tell me about how, for years, he has been using a drop of water over the OLPC XO laptop camera aperture to convert it into a microscope. The technique saw a resurgence recently when Scientific American blogged about insect photographer Alexander Wild, who put a water drop on the iPhone 4 camera to make macroscopic photos. His sample photos of a flower, ant and dime look incredible.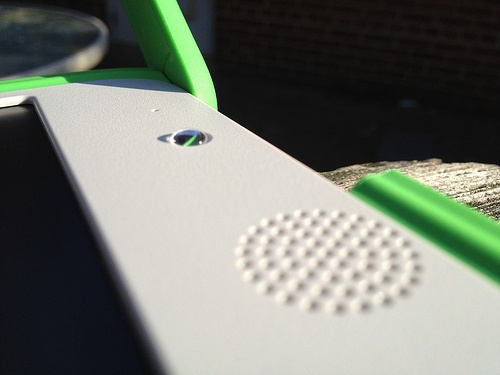 Earlier today, with low expectations based on my past experiences with the low resolution, low contrast XO camera, I set an XO-1.75 beta machine (any XO laptop will work) with screen face up on my porch railing and dabbed a drop of tap water on the camera aperture window with a plastic drinking straw.
The preview in the Record activity went completely blurry, but unlike most any other laptop, I was still able to clearly see the activity screen in the bright afternoon sunlight. I had some random objects from my yard and kitchen. Holding a yellow 1×2 Lego brick in my fingers, I hovered it over the water drop. The letters LEGO burst onto the screen from the sunlit brick. The quality of the image was excellent for an XO. Some of my shots are in the collage above and in an annotated set on Flickr.
It is Bill's wish that this simple, zero-cost technique become a standard learning exercise for all children who use XO laptops. Here are some tips he provided:
Use a 1-inch square piece of clear plastic cellophane from a CD/DVD wrapper or cigarette pack to hold the water drop so that it can be kept centered over the camera aperture
Manually focus by moving the object closer or further from the face-up XO camera
Video can be taken as well (perhaps of a wiggling bug)
Clean up the water with a tissue or towel
The clear plastic disc over the the XO camera is glued completely in place, so I just put my drop of water directly on without any problems. Even a small bottle of water will be enough to keep an entire class of XOs refreshed with water drops every 15 minutes for many hours of field exploration. The XO's daylight readable screen makes it easy for the children to share their photos and reflect on them by taking notes and making sketches.
We're hoping that water drops on XO laptop cameras will inspire millions of young Van Leeuwenhoeks around the world.
Here are some resources I found about water drop magnifiers:
Historical information
Using clothespins for support
Water drop on an Android smartphone camera
Water drop on an iPhone 3G camera
Book: Single Lens: The Story of the Simple Microscope, Brian J. Ford, 1981
---
Resumen en español: