Resumen en español al final del artículo
In January OLPC made a big splash when it demonstrated the first prototypes of the XO 3.0 tablet at the CES 2012 tradeshow. Now Archos - a well known player in the MP3 / video player and lately increasingly also tablet arena - has beat OLPC to the market with its own take on an inexpensive and child-focused tablet:
The 7'' Child Pad features a compact light weight design, the latest Android version, 4.0 "Ice Cream Sandwich", a 1GHz processor and 1GB of RAM. The Child Pad will be available at the end of March for $129 SRP.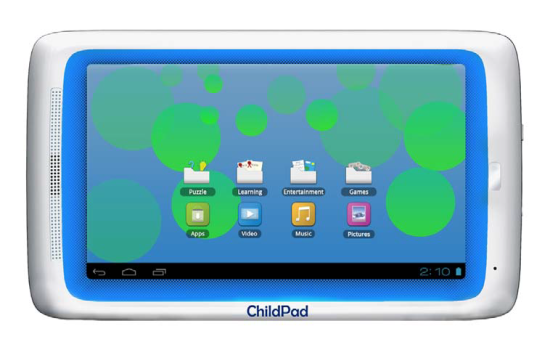 On the software side of things Archos isn't using the regular Android Market but has rather partnered with the AppsLib market:
Kid friendly features of the Child Pad include access to the Kids App Store powered by AppsLib which is filtered down to 14-friendly categories and 10,000 apps including games, entertainment, communication, multimedia, books, comics, sports and more.
Last but not least the Child Pad also comes with parental control and Internet filtering software:
ARCHOS has also designed the Child Pad to comply with both CIPA and COPPA regulations, ensuring a safe tablet environment for kids and peace of mind for parents. The parental controls and safe web browsing is powered by Editions Profil, whose "Mobile Parental Filter" is ranked as the most efficient parental control software in worldwide benchmarks.
When reading these details it's hard not to think of the Child Pad as a competitor to OLPC's XO 3.0 tablet. While the Child Pad seems more catered towards children in so-called "developed countries" I see few reasons why this tablet couldn't be used in schools in "developing nations".
Yes, the Archos Child Pad might not have all the features that the XO 3.0 can boast with such as the versatile charging circuitry which facilitates using alternative power sources, the microphone jack which doubles as an input-port for sensors, the (optional) sunlight-readable Pixel Qi display or the (also optional) covers with built-in solar panels. However the Child Pad will be available for purchase in late March and potential buyers won't have to deal with limitations such as OLPC's minimum order quantity.
Having said all of that I personally continue to be somewhat skeptical of using tablets in education. Especially the lack of good educational software and materials for Android and iOS still remains a major hurdle in my opinion. This is particularly true once you start looking for apps or materials in a language other than English. At the same time both Apple (iBooks 2) and Android-tablet makers such as Samsung (e.g. Samsung Learning Hub) are certainly working hard to develop software and service solutions catered towards the educational use of their products.
I can't help but think that these developments are going to make it much harder for OLPC to sell XO 3.0s. After all neither OLPC itself nor Sugar Labs have the resources to really compete with the likes of Apple and Samsung. Plus I'd be surprised if Intel didn't have a Classmate tablet up their sleeve as well, especially since they did already show a non-working proof of concept of one last year.
In the end it's fair to say that the introduction of the Child Pad is certainly an interesting and significant development and it will be worthwhile watching how it's received in the market.
---
Resumen en español: La semana pasada Archos presentó su Child Pad, un tablet de 7" adaptado para niños que estará disponible al fin del mes a un precio de $129. Mientras que el Child Pad no tiene todas las características especiales del XO 3.0 para mi no es posible no verlo como competencia para OLPC. Al mismo tiempo yo sigo siendo escéptico en cuanto al uso de tablets dentro de la educación porque todavía veo una falte de software y contenidos adaptados, en particular si uno buscalos en una idioma que no sea el ingles. En todo caso el anuncio de Archos es interesante y significativo y vale la pena ver cómo es recibido en el mercado.