Are you are still wondering how Nicholas Negroponte got to a One Tennis Court Per Child analogy for traditional computer labs?
While you (and I) are still befuddled, did you pick up the complete dismissive tone of Nicholas Negroponte when discussing recycled computers? That is older standard desktops or laptops sent to the developing world for use in computer labs there.
Not only do computer labs not pass his "pencil test" where he says that:
One does not think of community pencils-kids have their own. They are tools to think with, sufficiently inexpensive to be used for work and play, drawing, writing, and mathematics.
There is also a new rationale specifically against recycled computers on the improved
OLPC website
:
Finally, regarding recycled machines: if we estimate 100 million available used desktops, and each one requires only one hour of human attention to refurbish, reload, and handle, that is forty-five thousand work years. Thus, while we definitely encourage the recycling of used computers, it is not the solution for One Laptop per Child.
Whoa, of all the arguments One Laptop Per Child could use to bat down recycled computers, they are going to run with "work years"? No wonder they need
W2 Group marketing savvy
. The "work years" angle is crap.
For argument's sake, let's agree with OLPC and say a recycled computer "requires only one hour of human attention to refurbish, reload, and handle." An OLPC XO requires at least that, if not waaaay more to build from scratch. How many man hours does it take to make each component of the OLPC? And then assembly? Quanta is using an entire factory to assemble Children's Machine XO's. There is a whole other factory (or factories) to produce the screen.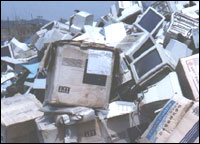 Where most CPU donations go
If OLPC (or just Negroponte) want to argue Children's Machine XO's are better than recycled computers (which I agree they are), they might want to use the real-world reasons why many of us who implement technology in the developing world shudder when we hear of a computer recycling program. Reasons logical, practical, and unlike OLPC's, valid:
Recycled computers are often non-working, end-of-life junk
They have wildly different hard/software configurations requiring manual inventory
Power-hungry Pentiums don't live long in low-voltage, high power-spike environments
"Free" computers donations can destroy local PC assembly businesses
There is usually no provision for support and maintenance - the real cost with technology
"Second hand" can imply the recipients are "second class"
Now that's not to say all computer donations are so ill-suited. There are outstanding examples, like
SchoolNet Namibia
but they are painfully rare. And even rarer still is any logic to the OLPC "work years" argument against recycled computers. Or the
One Tennis Court Per Child
analogy for that matter.
So OLPC, do us a favor, better your logic in your arguments, especially on topics we all agree on.