Now that One Laptop Per Child is moving closer to an actual roll out, 3,500 Children's Machine XO's are headed out for field testing in February, other nonprofits in the same niche are starting to get nervous.
First up are the NGO's that focus on sending recycled computers to the developing world. Most of these efforts have a mixed track record. Projects that ship containers of randomly collected desktops without first culling the donation for usable computers and then investing much time and effort in the distribution and maintenance, are often seen more as transferring e-waste than helping recipient countries.
Then there is the whole argument against donations, that "free" decimates the local PC assembly market, that the developing world shouldn't be resigned to cast-offs, and that there is no provision for end-of-life computer recycling.
There are some standouts - SchoolNet Namibia has a great reputation in sustainable deployment of ICTs across the education sector. And FAIR International could also be another, though I don't know much about them past their website and this Eritrea feasibility study.
They aim to "become a premier ICT supplier providing world leadership in cost effective computer networks and communication solutions" and in emails with Terje Tjensvoll, he also claims that
FAIR reuse the computers as thin-clients, and take them back to Norway when they not longer work. […]We have to many successful projects, which shows that recycled computers are not to any burden for the benefit countries.
That may be so, but FAIR has taken it upon itself to go toe-to-toe with OLPC with a
scathing press release
:
FAIR accuses OLPC of misleading poor countries into taking a high investment risk for a new type of technology, the success of which is very uncertain.

With uncertain definitions of target groups and heavy international marketing, OLPC appears to be trying to create a need which has not existed before and which does not exist at all in the world's richer regions. Developing countries are thus being misled into measures which shift the focus away from their real needs.
While there is a nugget of truth to the statement, and the
full press release
has some valid points, I have to wonder why FAIR issued an OLPC broadside now as a press release. Might they
see the reports
that Finland might spend 44% of its $379 million in foreign aid on OLPC XO's for Namibia's 800,000 children and think Norway, FAIR's funder, would do the same?
No matter the worthiness of OLPC, richer countries only have a limited foreign aid budget and funding for OLPC would starve other aid programs of their already limited funding. Aid programs that unlike OLPC may have a long track record of documented successes in multiple countries.
Regardless of recycled computer effectiveness or funding squeeze, how might OLPC respond to this claim, that:
OLPC is heavily marketing its product's advantages without giving enough information about the weaknesses and pitfalls of the new technology. Attention is being directed away from the gaping deficiencies and the project's high risk and OLPC is being marketed as a "100 dollar laptop", when it really costs over USD 200.- plus other substantial investment costs.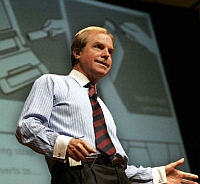 Nicholas Negroponte of OLPC
On behalf of OLPC, Nicholas Negroponte took the lead and
sent FAIR an email
. Now, this is Dr. Negroponte, so its no ordinary "that wasn't nice" email. He starts off with a solid rebuttal of FAIR's complaints:
The developing world does not need children learning IT. They need children to learn learning itself.

It is not our policy to do anything but support efforts that provide access to children, including yours even though the economics of recycled computers or computer labs just do not hold or scale. If you or your people had looked more carefully you would have found how wrong your remarks were.
But then he gets down right blunt about the criticism. Blunt and seemingly threatening, with the impression that he and OLPC are way mightier than the lowly FAIR:
It seems to me that there are two choices at this time, to correct a situation of your own making. One is to remove your story and issue an apology of some sort. The other is enter into an unnecessary battle, where win or lose, the lose-lose people are those in Eritrea and other places that will learn sooner rather than later that computer labs are like tennis courts. Yes, you should have them. Yet, we do not advocate "one tennis court per child."
So while you're wondering how tennis courts came into this conversation (if you figure it out, let me know, I'm still lost on that one), FAIR should realize by now that its way out of its league and its
OLPC improvement suggestions
will be disregarded.
See, according to Nicholas Negroponte, criticising OLPC is like criticising the church, or the Red Cross. And you don't mess with either unless you have God, all that is good, and at least two different marketing company divisions on your side.