Silicon Valley provocateur John C. Dvorak in his Woefull Tale of the $100 laptop on Market Watch is calling One Laptop Per Child "a massive exercise in futility"..
He first questions the need for computing in the developing world:
To summarize, there are only so many hours in the day, and we should not be wasting them on this kind of naïve feel-good showboating. Let's face it: These high-tech gems are a laughable addition to a mud hut. […]

Perhaps the organization should be thinking of the hand-cranked generator as serving [to power lights] alone and not computing. Lights, along with cellular phones and radios, seem more important than laptops.
To the surprise of some, this is where I disagree with Dvorak and actually completely agree with OLPC. The developing world needs access to information, what cell phones and radios deliver in limited quantities and the Internet can deliver in a massive, almost overwhelming self-directed flow. Access to information is the key to creating stable, robust, and wealthy communities.
In that need, Nicholas Negroponte's ego-driven hype has served an effective purpose. His often grandiose dreams have invigorated the development conversation with a dose of much-needed technology talk.
Talk that has captured mind share. Unfortunately, maybe too much mind share. Mind share that Market Watch article contributor and Stanford journalism lecturer G. Pascal Zachary feels is wasted:
"The real problem is lost mind share. The people are harmed because these sorts of schemes are sopping up mind-share time of the people who might be doing something actually useful."
So what does John C. Dvorak think is a better use of people's time, what the One Laptop Per Child contributors should be doing?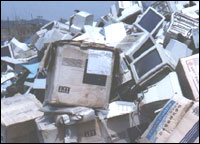 American e-waste
We should be spending our energy trying to figure out what to do with the hundreds of millions of computers that are junked rather than making more junk.
Actually, Mr. Dvorak, only someone who only looks out from a five-star hotel window would think that junked high-end computers, like those tossed out by Americans every day, would be suitable for the developing world.
Standard office computers would be junk themselves in the harsher, more demanding developing world environment. In that environment, OLPC's technology is not only more suitable, it's a revolutionary leap that will transform computing in extreme environments. And a very worthy use of everyone's mind share.
The main mind-share shame is that not enough of it is focused on building realistic and affordable Children's Machine XO pilot implementation plans, instead of proposing budget-busting implementation miracles.