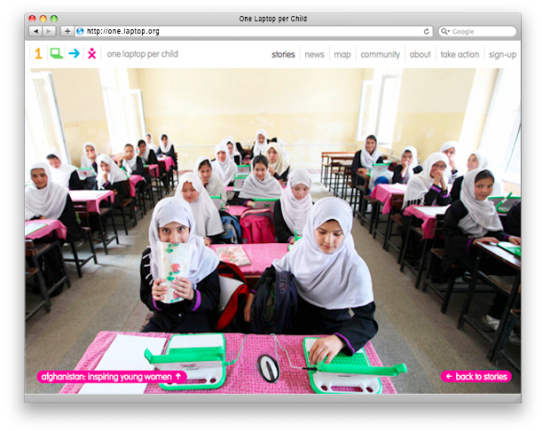 With much hoopla, Pentagram has redesigned the One Laptop Per Child website, laptop.org for the third time, building on its first site launch in 2007 and an update in 2008. As Pentagram says:
Pentagram's Lisa Strausfeld and her team have designed a new site for OLPC that helps focus on this new phase of the project: the use of the laptops and how they are helping to empower children. Previous versions of the OLPC site emphasized the organization's mission and laptop technology. Now that the laptops are in use, the new site details the accomplishments of the program, helps create a sense of community and encourages continued support.

The site has an editorial focus and acts as a kind of OLPC "mother ship," or hub, that serves to aggregate news and information about OLPC and surface the communities that have grown up around the program. The homepage shares stories and photos of children and classrooms that use the laptops. News updates are color-coded by source, and the site features an interactive map of the world that shows the countries and regions that have signed on to the initiative, with links to local updates via the OLPC Wiki. The site uses the language of simple graphic icons that Pentagram's Michael Gericke developed for the organization's identity. The new site was developed by Upstatement.
There is only one problem with the new site: its totally unusable.
Home Page: At one large image with only the faintest hint of navigation, users are quite confused as to what they're looking at. Yes, its an image, but of what? And how to learn about what they're looking at? Even long-time users web users (and those that know OLPC well) get confused. At first, I thought there was some kind of website error - like a too large image erroneously put into a "normal" site and wrecked formatting.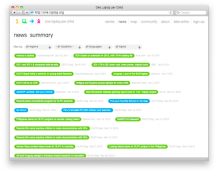 News Page: Dear god, this is design run amok. The green and blue bubbles and gray dates is nauseating. I can't tell if I should hover or click or just run. And how does the reader know when changes happen? You'd have to be a master at pattern recognition to know new news is up.


Map Page: Thanks for the dots, but this tiny representation makes OLPC seem no where - the locations are lost in the gray dots. What's so much better is olpcMAP, not that OLPC would ever recognize a community-developed anything.


Community Page: And this proves the point that OLPC doesn't care about community. Thanks for listing different links (even OLPC News, if oddly, as the only site w/o caps) but the way they're displayed is again, design over practicality. Why horizontal, paragraph-esque list, when the full weight of human patterns would suggest vertical lists under headers?


Take Action: The only page that doesn't suck.


Sign Up: I don't have an issue with the sign up page design, but I do have an issue with its action. Just when might OLPC actually use this email list? I signed up ages ago, and have received exactly 3 or 4 emails over the last 5 years. Not much good to have an email list that's never used.
So kudos to OLPC for redesigning their site (though I really didn't see the need) yet how badly the execution. And wait, they didn't even incorporate what is the only decent aspect of their web presence these days: the OLPC blog!