It's a labor of love. Or maybe a sense of commitment at this point... not sure exactly, but here I am: Glass of wine, near midnight, filling orders for XO Laptop replacement parts.
My husband, Brady, the techie of this family, was very excited at the opportunity to participate in G1G1 2007. He waited [somewhat] patiently for his get-one XO to arrive, which it finally did in February 2008. He eagerly got our then 2 year old hooked on the XO and quickly felt he wanted to do more. He asked me, "Can I just do it? Can I set up a website to offer accessories for the XO?" I must have said "Sure" ...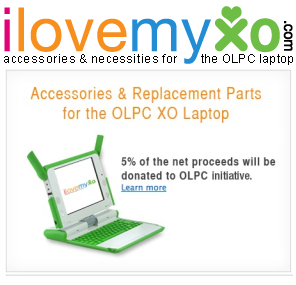 What started out as a fun little project to offer XO accessories Brady found to use with the XO Laptop turned into a supply channel for XO replacement parts.
Our XO Laptop is still in active use with our now 2 & 4 year old girls and I am running the accessories & replacement parts website with my friend, Angela. The reason why we keep this going is simple: Our customers and our role in supporting the donor community.
Simply put, our customers are amazing people. They share their stories, pictures, thankfulness and mission with us, and honestly this is what makes it all worthwhile. There is so much love, drive and passion out there - and we simply love all the stories and communications we get from our customers.
I brag about you... to all our friends. We couldn't ask for more - Adam from OLPC [who we work with for the replacement parts] is amazingly dedicated, thoughtful and hardworking. We do our best - not always perfect - but we truly appreciate this community. We welcome your feedback, suggestions, comments - it's a labor of love over here, but we realize it's a labor of love for this entire community.
We've made a few improvements over here -

First, we recently made the replacement parts available on Amazon. We are hoping that this will allow more people to know that replacement parts are available [versus finding us, the needle in the haystack].
Second, we created a "New" Travel Pack for the OLPC XO Laptop
. The "New" Travel Pack now includes the XO Power Adapter and the Laptop Bag. The battery can be added on at a discounted price; not sure how it will go, but we thought it might be worth a try. The "Original" Travel Pack for the OLPC XO Laptop
is still available in limited numbers through our Amazon storefront
.
Thank you, thank you for your continued support!
Jennifer Pierzchalski of ilovemyxo.com.