Resumen en español al final del artículo
One of the most frustrating aspects of my 2010 journey through Uruguay, Paraguay, and Peru was seeing how many children had to use XOs whose keyboards were broken. Uruguay seemed to be particularly hard-hit by this issue. From what I gathered this is due to the fact that they received many XOs which were produced fairly early on when OLPC had yet to implement changes to make the membranes of the keyboards thicker and thereby more robust.
As such I was very excited when I saw this photo showing off a new and seemingly much improved membrane keyboard which is the standard option for the upcoming ARM-based XO-1.75: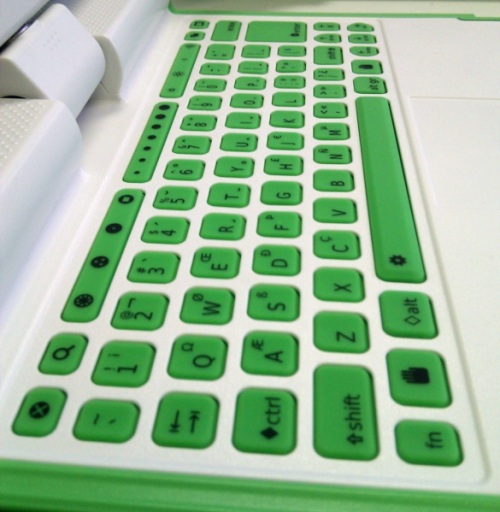 A comment on the wiki page of the photo refers to this as a grid style keyboard. As you can see the gaps between the individual keys are now protected with a plastic cover. This should really go a long way in reducing the number of broken keyboards and the associated maintenance hassles and expenses.
It will also be interesting to see whether OLPC will make these keyboards - or rather the whole bottom portion of the XO - available to deployments. That would allow them to gradually replace the machines hit by this issue rather than having to purchase XO-1.75s. Though of course one question here is at what cost such a replacement (parts plus shipping/handling and actually repair procedure) would be available to Uruguay and other projects.
In any case it's great to see this improvement become standard for future XO-1.75 owners.
Update (February 29, 2012): Please see the comments by OLPC Foundation's Paul Fox and OLPC Association's Martin Langhoff below for some clarifications and further information.
---
Resumen en español: Una fuente de frustración durante mi visita en 2010 de los proyectos en Uruguay, Paraguay y el Perú fue el número alto de alumnos que que tenían XOs con un teclado roto. Por esto me emocioné mucho cuando vi la foto arriba que muestra el diseño nuevo del teclado que será la opción por defecto en los XO-1.75. Ahora el espacio entre las teclas individuales esta protegido por una cubierta de plástico que debería ayudar mucho en mejorar la resistencia del teclado.