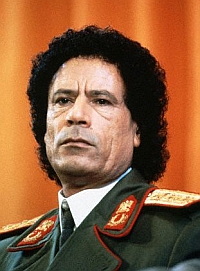 Muammar al-Qaddafi
Last week, the New York Times broke the news about the MOU between Libya and OLPC. This weekend, Walter Bender added this tantalizing summary on the OLPC Wiki:
"Libya and OLPC signed an MOU in which they agreed to work together towards the deployment of one OLPC laptop for every school-age child in Libya and contributing laptops to poor African nations. OLPC will provide the support needed by Libya to plan and carry out such a deployment.

The signing took place during a visit by Nicholas, Walter Bender, and Khaled Hassounah, where they met with members of the newly formed OLPC4Libya steering committee. The committee was presented with the outline of a comprehensive plan to distribute the laptops, create connectivity and server infrastructure, and prepare teachers and students.

Libya will send a team to the OLPC office in Cambridge to focus on software (Linux), infrastructure, and education content."
While the hard-core geeks will be wondering about the connectivity and server infrastructure, the rest of us are wondering about the more difficult and messy side of the implementation process; teacher and student preparation. Or as
Jon Morris says so eloquently
:
"What plan do you have for teacher training? I have been working in a staff development department of a school system that has been one-to-one for 6 years now.

We have found that training teachers to integrate technology is as fundamental to the success of a one-to-one program as the hardware itself. If the Libyan teachers do not have extensive, well-organized training, the students of any program will be shortchanged."
The main description of how the 2B1 Children's Machine will integrate into the classroom is the
Learning Vision wiki entry
: Laptops will enable children to "learn learning" and liberate students to "actively engage with others with similar interests in cultures of learning". Teachers will "focus their experience and expertise where most needed," with those needs and roles undefined.
Why might defined teacher roles matter in the 2B1 implementation? Why worry about what happens when students are given free reign with computers and the teachers are not trained how to integrate the new technology into the classroom? Mokurai (aka Ed Cherlin) brings up one of may concerns in the Teacher Training OLPC Wiki entry:
"There is also fear that the children will soon know more than the teachers, at which point teachers are predicted to rebel against the program. This does not have to happen, but the question must be addressed, preferably with field experience of some kind."
Theoretically, Nicholas Negroponte's
2B1 Foundation
has just that experience from its famous
laptops for Cambodian schoolchildren
project. There is only one problem. Like the MOU with Libya, the details are not publicly available.
We, along with every other country government, will just have to wonder and guess what might be the "comprehensive plan to distribute the laptops, create connectivity and server infrastructure, and prepare teachers and students."