educational models
,
learning software
, and
teacher training
, the codesmiths at One Laptop Per Child have put out a
LiveCD
of the
Sugar user interface
. The talented
J5 reports
:
I have stopped producing the LiveCD development builds to save space and time it takes to get out the daily builds. They are set to be replaced by the SDK LiveCD builds which will be built less frequently, usually during major sugar API changes and along with the stable builds. The first one is now available at http://olpc.download.redhat.com/olpc/streams/sdk/build1/livecd/ and is experimental. AKA, not guaranteed to work. I want to get some testing and add features such as a USB memory home directories and at some point, point and click installation to a hard drive.
As you download the software and start hacking its core, do let us know what you find. The guys at
Polish Linux
found an interesting
AbiWord
action:
In Abiword, the functionality has been crippled to allow only simple formatting (bold, italic, underline, insert image). What is quite astonishing is that the files are saved… in Microsoft .DOC format.
Dear God! I sure hope that's the not start of
Windows XP on the OLPC XO
, and only an error in default file association judgment by the developers.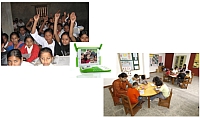 Showing better judgment are two presentations by those associated with local One Laptop Per Child organizations. First off, the ever active OLPC Nepal has an intriguing presentation that juxtaposes the rich and poor schools of Nepal, and identifies the Children's Machine XO as the bridge between the two.
OLPC Nepal also suggests that OLPC has dropped the one million laptop minimum order requirement, which if true, would be a great breakthrough in allowing countries to roll out the XO in phases, the hallmark of any well defined OLPC implementation plan.
OLPC Columbia has its own presentation, in Spanish of course, that will give you an idea of their feelings about One Laptop Per Columbian Child.
And I feel its about time to Sugarize my desktop with the new LiveCD ISO...