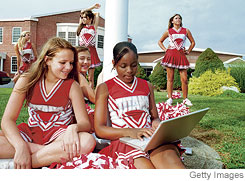 As Robert is thinking OLPC + Moodle = education, educators in the USA are questioning the whole idea of educational software's role in the classroom. In the front page Washington Post article, Software's Benefits On Tests In Doubt, we're told that according to a U.S. Department of Education study:
Educational software, a $2 billion-a-year industry that has become the darling of school systems across the country, has no significant impact on student performance...

The long-awaited report amounts to a rebuke of educational technology, a business whose growth has been spurred by schools desperate for ways to meet the testing mandates of President Bush's No Child Left Behind law.
At first, because
right or wrong, OLPC XO's will not be in USA schools
and this report was associated with the controversial NCLB emphasis on testing, I didn't think it was applicable to the OLPC debate.
But reading the article, I noticed an underlying theme to each case presented, the possible cause for the low effectiveness of all the great minds and mounds of money poured into educational software:
"We are concerned that the technology that we have today isn't being utilized as effectively as it can be to raise student achievement," said Katherine McLane, spokeswoman for the Department of Education.

County Superintendent John E. Deasy said the programs aren't magic bullets. "No technology adds value by itself," he said. "Just employing software is not likely to lift test scores for students."

Ephraim said she blamed the school system, because teachers were not prepared or properly trained to use the technology.

Elliot Soloway, professor of educational technology at the University of Michigan, said that teachers need to be better trained and that administrators need to wait more than one year to see results.
What might these quotes say to you? To me they echo the conclusion of the
Wall Street Journal
,
Education Week
, and again the
Washington Post
, that for any technology implementation, and especially when attempting to increase educational outcomes using technology, extensive teacher training must be an integral part of the process.
Training not only on how to use the educational software, but also how to seamlessly integrate it into an educational curriculum, a focus on education, not laptops.
And that makes the article relevant to One Laptop Per Child because Nicholas Negroponte has a very different view on teacher training. Following his Constructionist ideals, at 12:40 in his Digital, Life, Design presentation Negroponte tells us:
It's not by training teachers. It's not about building schools. With all due respect [to HP's e-inclusion efforts], it's not about curriculum or content. It's about leveraging the children themselves.
And now we have a serious disconnect. A major educational software study questions technologies in education, those involved imply that teacher training is the key to technology incorporation, and yet OLPC dismisses that very idea. Negroponte is relying on "magic", his
OLPC implementation miracle
, for educational success.
That should concern us all.