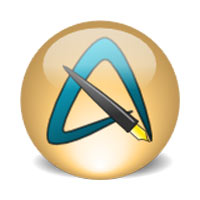 In August, we reported Erik Puckinskis's work
integrating AbiWord into OLPC's graphical environment
- the sweetly named "Sugar". AbiWord is an open source word processor that can read and write a wide variety of document formats.
More importantly, it is very lightweight - especially in comparison to other open source efforts, such as OpenOffice.org's "Writer". AbiWord seemed the ideal fit for the XO, given its memory constraints, so it was surprising that after Erik completed his initial integration work, discussion of AbiWord for OLPC vanished into the ether.
However, the AbiWord was very much back on the agenda last week when Michael Burns, a Computer Science student at Oregon State University, asked the OLPC developers if they intended to bundle a text editor with the laptops - name checking Erik's work on AbiWord in the process. The question produced a prompt response from Jim Gettys (VP, Software Engineering, OLPC):
Our primary focus in the long term is to use a wiki-based collaborative editing system, currently in design.

That being said, Abiword's capabilities as a light-weight Microsoft Word display program (and, for the moment, editor) is very attractive.
A few days later, Michael and another student involved in Oregon State University's Open Source Lab, Justin Gallardo, coaxed the Sugar-ised
AbiWord into reading and writing various document types
including Microsoft Word's .doc format. Efforts are now under way to slim down AbiWord further.
This week's OLPC Community news suggests that the fruits of this labour will either be a version of AbiWord that differs radically from those available on other platforms or, perhaps, a new product entirely:
14. We are working hard to create a rich-text editor based on the code from a popular free-software program called Abiword.
It looks as if the bare bones of AbiWord may be used to create OLPC's "new wiki-based" collaborative editor - name unknown - whilst other AbiWord parts will facilitate reading/writing common text document formats.
Whether or not an AbiWord branded word processor is is shipped on the XO, I recommend taking the application for a spin some time. It's a great bit of kit that could possibly help you out in a tight spot - such as un-garbling an afternoon's work after Microsoft Word crashes, then fails to open the backup file it created.