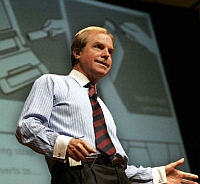 Nicholas Negroponte of OLPC
Today Nicholas Negroponte took a big bite of humble pie. He finally admitted that his grand plan to sell One Laptop Per Child to developing world governments through orders of at least one million XO laptops is a failure, that President's loving laptops doesn't equal Ministers buying XO's:
"I have to some degree underestimated the difference between shaking the hand of a head of state and having a check written," said Nicholas Negroponte, chairman of the nonprofit project. "And, yes, it has been a disappointment."
But rather than kick a man when he's down, I'd like to say "Thank you" to Dr. Negroponte. He's surprised me by actually admitting his mistake; I didn't think his expansive ego would've permitted it. In addition, he is trying to correct his mistake and save
OLPC production
.
See, the OLPC USA sales plan shows failure in Negroponte led sales plan, not the overall idea. The developing world still wants XO laptops, and wants to buy "$100 laptops", just not in million-unit blocks with no maintenance plan.
For proof, look at the OLPC Uruguay bid. Ceibal wants one-to-one computing, but in small lots of a few thousand computers each so they can implement XO laptops at a measured pace. They also want warranties and localized repair, not Humpty Dumpty on a million unit scale. Wouldn't you if you were buying computers for a whole nation's school system?
Nicholas Negroponte deserves credit for recognizing that developing world governments were not going to commit on his time or orders scale and changing his distribution method. He needs to get a critical mass of users and programmers to show that One Laptop Per Child is a credible agent for educational change. Or as Walter Bender says:
"Part of what we're doing here is broadening the community of users, broadening the base of ideas and contributions, and that will be tremendously valuable."
The
Buy 2 Get 1
sales plan is Professor Negroponte's way to stimulate orders for his computers while simultaneously building up a war chest to self-finance his own "
implementation miracle
":
Negroponte explained that if donations reached, say, $40 million, that would mean 100,000 laptops could be distributed free in the developing world. The idea, he said, would be to give perhaps 5,000 machines to 20 countries to try out and get started. "It could trigger a lot of things," he said.
I know that
XO Christmas sales
will trigger at least one thing: Quanta's production line to sell out the 120,000 laptops it plans to manufacture in 2007. Yes, American geek tech-lust and greed will usurp developing world children at first, and that will probably be the best thing that happens for One Laptop Per Child.