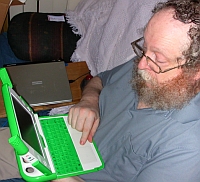 Ed Cherlin's OLPC BTest-4 XO
Are you getting excited about tonight? The OLPC News San Francisco Meetup. What if you knew that we'll have two special guests:
Ed Cherlin with an Btest-4 XO laptop he has on loan from Google
Christopher Segot with a few Asus Eee PC's to play with
And that we'll have a XO Production Celebration OLPC Quiz with a free round of drinks for the winners?
Yeah, its going to be a joe-cool night! Be sure to be at 21st Amendment brewery & restaurant (map) tonight at 6pm.