There have been many discussions in OLPC News about whether the laptops are a good or cost-effective solution for schools. Recently, the program in Peru was pronounced 'failed'. More recently, an engineer in Thailand determined that the laptop was a toy and that no significant difference in performance was shown by students with laptops.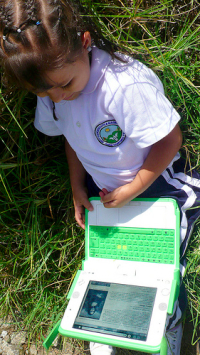 Suppose you selected a group of children, gave them bicycles, and taught them how to ride. You decided to measure the results of this initiative by the time required by children with and without bicycles to complete a 100 meter course. You were pleased that every child with a bicycle completed the course faster than any of the children without bicycles. However, there was a protest. It was decided that all the children should be measured running the course. Now, it was learned that the children with bicycles did not perform any better than those without.
Suppose as a developing country, you decided to prepare your children beginning in primary school to participate effectively in the global economy. Modern organizations place high value on their employees being able to work in teams with their colleagues to complete tasks and solve problems. Hand-written reports are extremely rare, everything is typed. Spelling is done by a spell-checker. No one trusts pencil and paper calculations, they are always checked by a calculator or a spreadsheet.
Keyboard skills are much more essential than good penmanship. Every employee is expected to be able to use a computer effectively. In this context, the OLPC program not only appears appropriate but, a 'no-brainer'.
However, primary schools do not measure their students performance on these modern skills. Not only are students not measured on their computer skills, computers are not used for evaluation (tests are done with pencil and paper).
I believe that the introduction of computers in the classroom will follow the pattern of most other industries. First, the computer is used for front-office functions. In schools this is maintaining enrollment data, attendance, gradebooks, transcripts, and so forth.
The use of the computer to perform the primary mission of the organization (e.g. using computers in manufacturing as opposed to accounts payable and accounts receivable) comes later and is much more difficult (although much more rewarding financially). The consistent pattern is that the computer must first do the job as it is currently being done by humans. Later the use of the computer evolves to take better advantage of its capabilities.
In the educational context, I believe this means that the laptops must first emulate textbooks and support the existing curriculum of the schools. Over time, the computer will act as a catalyst in moving the school curriculum in closer alignment with the skills required in contemporary life.
Tony Anderson is a volunteer with OLE Nepal and OLPC Rwanda