The results of the Sugar Labs Oversight Board election which took place these past 2 weeks were announced last night. The 2009-2010-2011 Oversight Board will consist of: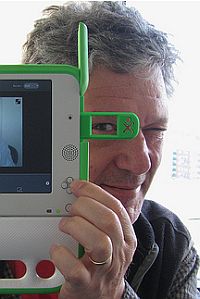 One of the SLOBs
Walter Bender (Sugar Labs founder)
Tomeu Vizoso (Sugar Labs developer)
Mel Chua (Red Hat)
Bernie Innocenti (Sugar Labs infrastructure coordinator)
Chris Ball (One Laptop per Child)
Sean Daly (Sugar Labs marketing coordinator)
Adam Holt (One Laptop per Child)
In case this is the first time you are hearing about the Sugar Labs Oversight Board (or SLOB as most people call it) and wondering what it does here's its mission statement:
The mission of the oversight board is to ensure that the Sugar Labs community has clarity of purpose and the means to collaborate in achieving its goals.
If you want to learn more about the people on the SLOB I would recommend taking a look at the original list of candidates where some of them have posted their motivation for running in the elections and what areas of activities they want to focus on.
Congratulations to the winners, I'm looking forward to your ideas, plans and efforts, in particular from the newcomers.