SugarLabs "evolved" from OLPC with a wider goal to provide an instructionist GIU and computer learning environment for elementary school age kids all over the world.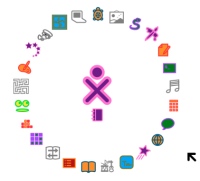 It's engineering goals call for a (Linux) OS and hardware-agnostic platform, with transparent, free and readily accessible and modifiable code that can be also easily shared among users. The normal user has absolute control over the Sugar part but the core system remains secure from malicious activities.
One aspect that was explicitly stated in the OLPC project but is not even suggested by SugarLabs is environmental concern and energy (code) efficiency. The other aspect that was not addressed either by OLPC or SugarLabs is if free and accessible implies "as long as you do it a certain way".
With SugarLabs maturing and Sugar approaching its 1.0 version I think it worths taking a look at some of these trying to minimize prerequisites and established practices, and see a) if all these are feasible b) if the implemented approaches can achieve them and c) at what cost.
I'm obviously not offering an expert opinion, but rather trying to bring up some issues for (re)consideration. Experience shows that evolutions of goals and ideas tend to curry a lot of the previous practices and components that can actually trouble your progress down the road. I'm not necessarily suggesting to redesign Sugar, but rather (in Linux terms) to (re)define the tree and do an extensive garbage collection.
One GUI?

Although the age-target group of Sugar is not rigidly defined and is ranging for 6 to 16, let's stay with the Uruguay paradigm and say elementary school kids. So the first obvious question is if ANY GUI can be equally appropriate for a 1st grader that can not read and hardly have the motor skills to use a computer and a 6th grader that may blind-type and use keyboard shortcuts because the mouse slows him/her down?
The second obvious question is, given the diversity in kids development/aptitude, if for any given age/class there is a minimal common ability denominator to be based on? If yes, is this "common denominator" sufficient to build a GUI around and is this "common denominator"-based GUI will actually be any good to anyone?
And the third obvious question is how any given GUI can be cross-caltural without imposing a "cultural imperialism"?
Linux is trying to address these issues in the adult world by providing a multiple of highly configurable desktop environments. OLPC on the other hand provides both Sugar and GNOME trying to satisfy both young and older kids.
Sugar must become more configurable too. From plane icons and no text to two-level deep drop-down menus and everything in between if possible. Maybe in a fashion similar to the frame delay selection or the universal access mode. This would allow different user abilities and preferences to be implemented/accommodated.
It is not reasonable to believe that "one size can fits all" and if you do also to believe that this is going to be looking good on anyone too! But how do you decide which one is the best for any given age/ability group? There is only one way. Test with the given target groups!
Also decide what is you "user satisfaction goal" for your given effort/abilities. Going for 100% may end up in a monster structure. I believe that 51% is a good initial goal. Anything above that should be considered on a cost/benefit base.
Talking about garbage collection, may want to reconsider some OLPC XO-1 relics (eg low specs) like the luck of color. Children above all, should not live in a "grey world".
However, for all these to be successfully implemented I guess that the GUI itself should be build in a modular and easily configurable way. Similar to the activities. Components should be added and removed without affecting the remaining parts. I do not know how feasible this may be but modularity and customization are going hand to hand.
The additional benefit of modularity is that it may be adapted to a wider hardware abilities and satisfy user choices like responsiveness over features. I can appreciate that this may generate a havoc with activity building, but to the extend that clear APIs and instructions are there, you can only hope that developers will follow suit. The alternative is "one size-fits-all" and even worse, every change breaks compatibility with pervious builds/apps and introduces a cycle of debugging/rebuilding.
Only (one) Interpreted Language(s)?
From the beginning OLPC and later SugarLabs made one fundamental choice. Sugar code should be _readily_ available to and modifiable by the user. This was translated to "try to do everything in python" that was taken a step further, I guess also because of the XO-1 space limitations, to "do not use/keep python compiled binaries" (the .pyc files).
Python may be great but the specific implementation introduced a major burden in lowspecs hardware, increased energy consumption (CPU cycles), wasted time (multiply few minutes of waiting per day with millions of users) and frustration (patient is not a characteristic of young age).
The argument is that this option increases programming literacy and freedom. However, if nothing else Sugar already has plenty of programming applications including Python. If the need for seeing and modifying application code arises (not the most common need for 7-12 year old) you can have source code provided with all apps.
The issue of limited storage space could be taken care by the School server or the internet that could keep and distribute source code files on demand. Will be some delay and the (non functioning) "view source" button will not work, but comparing to the overall delays introduced by the current scheme the choice should be clear.
But python has run-time code evaluation, someone will argue. True, but this is a convenience for the developers mostly (if not only). Them doing their work faster/easier and everybody else paying the bloat/delay price can hardly be an "educational" justification. But python looks like real spoken language. True, but other languages do it and some without the bloat. What about gnome's newer addition, Genie? Python-like syntax, no VM under, no 10 layers to get to processor, use of existing libraries, C-like performance. Should it be "banned" from Sugar?
The multiple programming language/binary packages approach on the other hand will:
allow the most appropriate language to be implemented for any given task,
attract/utilize developers with different programming skills,
allow easier use/adaptation of existing apps without reinventing the wheel for everything
increase program execution speed and efficiency
allow exposure/teaching of multiple programming language instead of just one
teach a mainstream programing skill eg compile/debug apps from source
improve compatibility/distribution with other linux distros.
I certainly do not suggest to rewrite Sugar from scratch. It could start with always keeping and using the .pyc files (as it is done for some core elements and indeed many activities lately in Sugar 0.84+) and open the door to other language and the binary/source code scheme. Allow the use of non-python languages (maybe with a python wrapper if needed) for now and encourage more energy efficient languages for the future.
I can imagine that this may create other technical/operating problems but this approach is something that has been used and solved in most of the standard linux distributions (including the Fedora core mostly used by SugarLabs) that utilize packages written in all sort of languages.
Mavrothal as this question first on OLPC News Forum
---
Know what's happening with Sugar - subscribe to OLPC News via RSS Feed, Email or Twitter
.