Resumen en español al final del artículo
Like any project, One Laptop per Child has had its ups and downs since the project was started back in 2005. However from my perspective things have never been as bad as now, and it really seems like OLPC is quickly falling apart.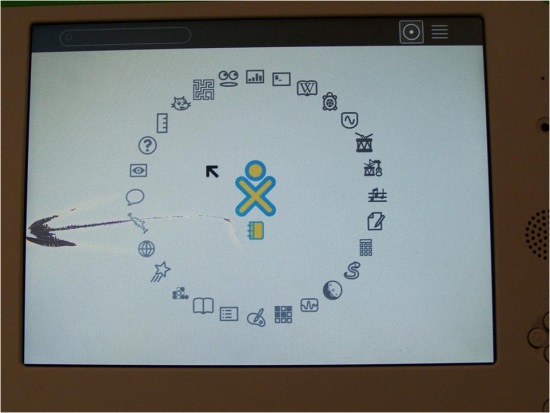 Much more more than just a crack in the facade.
In the past 3~4 years things sometimes seemed shaky but in general at least my personal outlook was positive thanks to the existing olpc and Sugar communities, the excitement about the work being done in implementations around the world, and in particular Uruguay's Plan Ceibal project.
However in the past 12 to 18 months OLPC started to take a turn for the worse. In retrospective the lackluster results in the February 2012 report of the long-term IADB evaluation of Peru's OLPC project might become to be considered the beginning of the end. OLPC's complete failure to address the report's findings over many months combined with The Economist's overblown "Error message" piece (and OLPC's 3-day delay in reacting to it) from April 2012 turned into a PR disaster. Decision makers around the world who hadn't heard much about OLPC in a while had negative news about the project physically delivered to their doorsteps and breakfast tables.
The underlying core issue was - and continues to be - that OLPC never bothered to invest in building supportive evidence for its own narrative about the impact of its work. This makes it easy to (rightfully or wrongfully) criticize the project and gives OLPC precious few solid arguments to counter with. Of course having Nicholas Negroponte talk about dropping laptops or tablets out of helicopters since mid-2011 didn't really help its cause.
A couple of weeks after the The Economist article it became obvious that OLPC's XO 3.0 tablet - which it had previously demonstrated with much hype at the CES 2012 tradeshow at the beginning of the year - would be delayed. A couple of months later Negroponte announced that the device was cancelled, sharing the fate of its cancelled XO-2 predecessor. Again, not a confidence-building announcement.
Then in early January of this year OLPC announced the XO Tablet which left many of OLPC's followers, including yours truly, wondering what OLPC was up to. Fluffy marketing and its dream-focused interface aside, the tablet was a generic 7" Android tablet in an ocean of inexpensive Android tablets. I quickly started referring to the device as the Walmart Tablet as OLPC initially announced that it would become available at Walmart.com and select Walmart stores in March. Then in mid-May it was announced that the release had been pushed back to June. The title of my corresponding post was "XO Tablet Supposedly Becomes Available on June 1" as I had become quite skeptical about OLPC's ability to deliver the XO Tablet at all. As I write these lines at the end of June the XO Tablet is nowhere to be found on walmart.com and OLPC has neither said anything about it in several weeks nor replied to e-mails with questions about what's going on.
All of these developments don't make for a pretty picture but the single biggest indicator that OLPC is really falling apart is that the organization has lost many key employees over the past few months. OLPC's People page has never been quite up-to-date but in combination with farewell e-mails on mailing lists and the company Bobo Analytics's Team page it is clear that at least the following people have left the organization in the past few months:
Chris Ball (formerly OLPC Association's Lead Software Engineer)
Mitch Bradley (formerly OLPC Association's Firmware Architect)
Robert Hacker (formerly OLPC Association's Chief Financial Officer) - now simply listed as an advisor
Martin Langhoff (formerly OLPC Association's Senior Software Architect and Technical Director)
Ed McNierney (formerly OLPC Foundation's Chief Technology Officer)
Richard Smith (formerly OLPC Association's Director of Embedded Engineering)
Claudia Urrea (formerly OLPC Association's Director of Learning)
Moreover I have heard, but haven't been able to independently confirm, that at least three other people who are listed on the people page are in fact no longer working for OLPC.
Overall things aren't looking good for OLPC. And while I hope that the organization can turn things around I'm not sure how realistic that is given all these developments and especially the hemorrhaging of employees.
So something tells me that in the coming weeks and months we will see many lengthy - and sometimes beer-soaked - offline and online discussions about what a post-OLPC era could, would, and should look like...
---
Resumen en español: Como todo proyecto, One Laptop per Child ha tenido sus altibajos desde que el proyecto se inició en 2005. Sin embargo, desde mi punto de vista las cosas nunca han sido tan malas como ahora, y realmente parece que OLPC está cayendo rápidamente a pedazos.
Los informes sobre los resultados de la evaluación del proyecto OLPC en el Perú y el fracaso de OLPC de responder a ellos de manera oportuna y adecuada podría considerarse el principio del fin. El anuncio, luego retraso y finalmente la cancelación de la tableta XO 3.0 tampoco era bueno para la confianza. Luego del anuncio de la XO Tablet también dejó a muchos de los seguidores de OLPC, incluyendo yo, preguntándose lo que la organización estaba haciendo. Todos estos acontecimientos no hacen una buena impresion, pero el mayor indicador de que OLPC está realmente cayendo a pedazos es que la organización ha perdido muchos empleados clave en los últimos meses.
En general las cosas no pintan bien para OLPC. Y mientras espero que la organización puede cambiar las cosas, no estoy seguro si esto es realista dado todos estos desarrollos y sobre todo la hemorragia de los empleados.
Así que algo me dice que en las próximas semanas y meses vamos a ver a muchos largos discusiones acerca de lo que una epoca post-OLPC podría, sería, y debe ser...