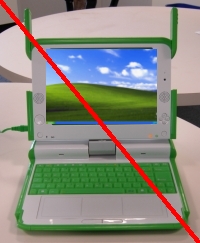 My opinion: No XP! What's yours?
We all have strong opinions about Windows XP on the XO laptop, and soon according to Laptop Mag, our greatest fears or hopes will be realized:
Negroponte says that a Windows operating system is in the process of being fine-tuned on the XO as we speak. "Microsoft and OLPC are in discussion on how to release it, as well as how to announce," he said. Negroponte added that the Windows operating system should be available on the XO in less than 60 days.
For me, that paragraph represents the end of a dream. I say that XP on the XO is the end of One Laptop Per Child as an educational project. With a Microsoft operating system, an XO becomes a "$200 laptop", a cheap Toshiba replacement, not an educational learning tool for children.
With the Sugar User Interface, OLPC can claim to have a Constructionist learning methodology, it can claim to be promoting exploration and learning, it can even hope to activate the view source key. But once you put on XP, no matter how much it may be customized to leverage the XO hardware, children will not be taught to "learn learning" as Negroponte promised. They will be taught "ICT skills", a phrase Negroponte himself railed against.
Ministries of Education will be tempted to lock down XO's in computer labs and revert the whole one laptop per child idea back to one to many, effectively negating the goal of this grand dream.
Yes, for me XP on the XO is the end of OLPC, no matter who is the CEO.