This is the second part of Walter Bender's "Confessions of a Fundamentalist".
---
"Free as in speech"
The ideals and methods of collaboration and critique embodied in the culture of free software can be a powerful force in the culture of learning. Such a transfer of culture could greatly enhance the education industry and its ability to engage teachers and students: empowering them with both the freedom to act and the freedom to be critical. Criticism of ideas is a powerful force in learning and in fostering economic development; unleashing that is an important part of the mission. It is not about debugging software, it is about the culture of debugging. FOSS can serve as a means towards the goal of constructionist learning.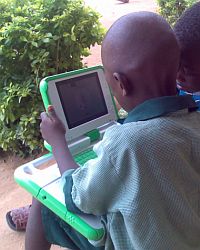 Working on the dictionary?
By way of example, in Nigeria there are anywhere between 300 and 500 local languages, depending upon which metric you use. The official language of Nigeria is English, but English is at best the second or third language for most Nigerians--rarely is it their first language. In an early deployment of one-to-one computing in a school in Abuja, the children were initially frustrated that there was no spelling dictionary for Igbo, their first language. However, they discovered that they could build their own spelling dictionary. Not only were they able to satisfy this specific need, they discovered in themselves the power of harnessing tools toward their own ends. (In contrast to the FOSS experience, it is only within the last few months that Microsoft has offered Office in Igbo, Yoruba, or Hausa, the three majors languages of one of the wealthiest, most populous country in Africa.)
"How sweet it is." --Jackie Gleason
Sugar is a FOSS software environment that revisits how computers can be used for education: it explicitly promotes sharing and collaborative learning. At its core is the concept of an "Activity". Activities are software applications such as a web browser, a word processor, or even a calculator, that, when "Sugarized", are enhanced by three key features:
1. the application is readily shared with others; for example, to share what you are reading with others requires just one "button click"; in the word processor, Sugar provides the ability to do peer-to-peer editing, again with just one click; a chat window is always available for seeking help, sharing ideas, or exchanging data
2. a journal entry is created everything time an application is run; not only are files and data automatically saved, but a diary is created so that a child, her teacher, and her parents can monitor progress
3. applications run full-screen in a simplified framework; Sugar is simple, transparent, and discoverable, and yet there is no upper bound on the complexity that can be reached.
For example, TamTam, a music Activity that is bundled with Sugar (developed by Jean Piché and his students at the University of Montreal), enables a child to progress from playing a single instrument to layering multiple instruments and rhythms to playing music in synchrony with other children to composing music to designing new instruments to programing music (by utilizing Sugar's "view source" capability).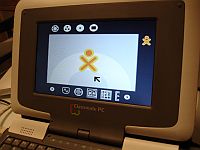 Sugarized Classmate
Sugar was originally developed for the OLPC XO-1 laptop, but it has recently been ported to a number of other computing environments (including Fedora 9 and Ubuntu 8.4 Hardy Heron); A Sugar Live-CD is readily available to anyone who has access to a computer. This work was done by volunteers in the FOSS community. (The Sugar codebase represents the work of hundreds, if not thousands of volunteers. While this level of effort is not unprecedented, what is unique about their efforts is that, until recently, this effort has been made on behalf
of tools that they themselves don't use. This has been a wholly altruistic effort on their part. They are to be commended.)
Je n'ai fait celle-ci plus longue parceque je n'ai pas eu le loisir de la faire plus courte. / I have made this letter so long only because I did not have the leisure to make it shorter. --Blaise Pascal, Pensées, The Provincial Letters, (1657).
Sugar is already in the hands of hundreds of thousands of children who are successfully engaging in learning. Children are resilient, but we need to improve their experience. But they are already being anchored to the idea that learning is about the appropriation of knowledge. Deployment is very hard. Consequently, deployment is being taken seriously: the early-adopter teams in Peru, Uruguay, India, Nepal, and elsewhere have been making great progress and the cooperation between the various deployments is significant and the integration of feedback from the field is of great value. Further, the opportunities for grassroots deployment and community support efforts abound. There are serious challenges ahead; changing the status quo of learning around the world will take time and we'll make many mistakes along the way.
It will take time, but we will succeed.
Sugar Labs serves as a mechanism for supporting the Sugar community. It is committed to transparency, an open decision-making process with community involvement, a stable mission statement, and documentation.

Walter Bender was President of OLPC Software and Content until his resignation in April of 2008 and he is now leading the Sugar Labs project.