For the past 30 months, I have been part of an effort to bring about a global transformation of education through the provision of connected "ultra-low-cost" laptop computers; computers that will provide an agency through which to positively impact learning, and consequently, everything that learning impacts, in particular, economic development.
This work has been about giving children who don't have the opportunity for learning that opportunity: it is about access; it is about equity; and it is about giving the next generation of children in the developing world a bright and open future. It is predicated on the fact that children lack opportunity, not capability: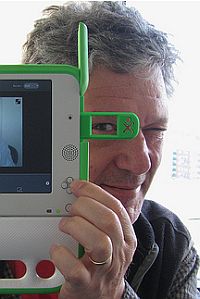 Walter Bender, Fundamentalist
1. High-quality education for every child is essential to provide an equitable and viable society
2. A connected laptop computer is the most powerful tool we have for knowledge creation
3. Access on a sufficient scale provides real benefits for learning because critical mass is necessary to establish a sustainable community.
None of us have been so naïve to think that a connected laptop is in itself a cure to the problems of poverty and ignorance; it is an agency through which children, their teachers, their families, and their communities can manufacture a cure. Computers are tools with which to think, sufficiently inexpensive to be used for work and play,
drawing, writing, measuring, composing, editing, mathematical thinking, programming, communication, and sustainable economic development.
"It's a learning project"
It has been asserted that I am a free and open-source (FOSS) fundamentalist and that the use of open-source software has become the project's ends instead of its means, very much to its detriment. Step One on the road to recovery is to admit your addiction: "I am a fundamentalist." There, I have said it and I feel better already. I am a fundamentalist--but in regard to what? Not software. I am a fundamentalist about learning! That is not to say I am not passionate about FOSS, but as the means, not the end, towards a "constructionist" learning model.
"Constructionism" is a theory of learning pioneered by Seymour Papert. Papert first started developing the theory as a student of Piaget in the early 1960s. Over the course of more than 40 years of research and practice, Papert and his students found that children learn best when they are in the "active role of the designer and constructor" and that this happens best in a context where the child is "consciously engaged in constructing a public entity" - something "truly meaningful" for the learner. Further, the creation process and the end product must be shared with others in order for the full effects to take root.
A false dichotomy
The computer serves as a power tool for getting new pedagogical approaches into the education system and while getting computers into the hands of more children is undoubtedly of benefit, the question remains, how does one maximize the learning that occurs? The question often is framed (in the marketplace) in terms of "teacher-centric" approach versus "child-centric." This dichotomy is a false one; while we should not be proscriptive, we should be striving for a "learning-centric" approach, where teachers mentor students as they engage with powerful ideas, "teaching less and learning more."
Another false dichotomy underlies the debate regarding proprietary vs. free and open systems. The former is often associated with the efficient delivery of learning as a service, perhaps best exemplified by those who advocate mobile phones as the most cost-effective way of putting access to knowledge into the hands of children. The latter is often characterized as having as its goal, turning children into "Linux kernel hackers." Clearly one can use proprietary software tools to engage in the construction of knowledge and just as clearly, one can use FOSS-based tools to access instructional materials. As an aside, it is not obvious that the mobile-phone form factor or the service-oriented telephone industries are conducive to constuctionist methods. When was the last time you wrote a program for your phone? (and did you write that program on your phone?) We have all sent text messages from our phones, but have you ever written an essay on your phone?
Learning is fundamental.
We should not be agnostic about learning. While we aspire to give children access to knowledge--through media such as electronic books, the world-wide web, and multimedia--we also should try to skew the odds toward children and teachers appropriating this knowledge by putting it to use and engaging in critical dialog. That is not just going to happen by itself; we have to try to make it happen by giving them tools that put them in the roles of consumer, critic, and creator within the context of a learning community. Learning is not a service--it a process of active appropriation, and the appropriate software tools can serve as a catalyst to this appropriation. We should foster the appropriation of knowledge, not just access to it. Thus we should provide tools that skew the odds towards appropriation. For example, you can give a child a book as a PDF file or in a Wiki format. In both cases, the child can read the book. But the choice of representation does make a difference: the chances that the child will add a comment to a PDF file, a read-only format, are almost zero; a Wiki page, which has built-in affordances for annotation, significantly increases the odds.

Walter Bender was President of OLPC Software and Content until his resignation in April of 2008 and he is now leading the Sugar Labs project.