After listening to John Gilmore's opening keynote at the 25th Chaos Communication Congress in Berlin at the end of December and generally thinking about the current modus operandi when it comes to open-source development an odd thought hit me:
What if OLPC and Sugar Labs went for-profit?
Now obviously this is a question that's been discussed many times over the past three years but somehow I myself hadn't really spent too much serious thought on it. When Nicholas Negroponte is asked why he decided to make OLPC a non-profit, even though many people had advised him to go the for-profit route, he always answers that being non-profit provides "a clarity of focus and mission". After all, it's about bringing education to children and not about selling laptops...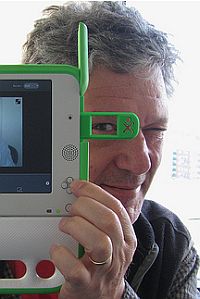 Walter, can you see the profit?
The thing is that being a non-profit and heavily making use of the open-source way of doing things might in fact work better for selling low-cost laptops then it does for bringing education to children. Maybe that part of the mission is better served by a for-profit entity.
What an odd thing to say! Shouldn't it be the other way 'round? Selling laptops being the for-profit part of the equation and education being the altruistic non-profit aspect?
The reason why I think this might not be the case lies in the nature of (often) unpaid development which is a cornerstone of the free-and-open-source landscape. The motivation for most people living la vida FOSS is simple: scratching an itch they have.
Now guess how many of those people aren't happy with the major Linux distributions and start rolling their own customized setup? How many didn't like the OS on their eee PC and started hacking and customizing it? How many had an interest to make Ubuntu run well on Apple's notebook? Quite a few of them as it turns out, hence why there's been a lot of progress in these areas.
And now guess how many people have an itch to make education with laptops work in the developing world? An itch that's strong enough to make them work on it in their spare time? Some, but not merely enough, hence the generally slow progress in that area.
Of course it's understandable to spend your time and energy on something that's close to your heart. But I can't help feeling that all the time spent by the Fedora, Debian and Ubuntu communities on making their distribution run on the XO would be better spent improving Sugar, helping in translation, writing documentation (= things that help everyone with an XO, not just the people using distribution X) and thinking how to make FOSS work for education.
When Microsoft is perceived to take over OLPC there's lots of shouting and complaining about the dark side winning when it comes to education in developing countries. Yet I see surprisingly little action as a result and most people prefer to turn their backs on OLPC instead of putting up a fight in their evenings and on their weekends.
Can you imagine how much progress could be made if an organization such as OLPC or SugarLabs actually had the means to employ a sizable team of developers and educators?
Imagine a dedicated staff of 100 people working full time on the challenges related to making Sugar the best learning platform there is? Grow and foster a dedicated community around that organization and have the mothership support it instead of the community having to ask for donations to make important events such as XOCamp happen.
Others are more knowledgeable on the details but from what I've seen Red Hat / Fedora do a pretty amazing job in that area. In fact they seem to do it so well that it's somewhat hard to imagine one entity without the other.
Now the question is who would pay money to make such an organization a financially viable enterprise? I'm thinking: everyone. Why? Because they do it already anyway, which is exactly why the Microsofts and Intels of the world want a big piece of what they consider a profitable market with some nice growth prospects in the future. Furthermore I'm confident that if set up and run well an OLPC or SugarLabs for-profit entity could compete with other players in the field, both in terms of cost and quality.
At the end of the day what I'm saying is that bringing computer-based education to potentially hundreds of millions of children across the globe is such a huge undertaking that it might just be tad too large to be tackled by two largely volunteer based organizations.