Constructionism has become a suitcase word. If we are to continue using the word we need to tidy up the suitcase because different sorts of fuzziness have crept in. So, what is in the suitcase, what should stay in and what should be taken out? Or is the word fuzzy by nature?
One problem is religious aura or grandiosity. Constructionism is asserted to be the answer to all our problems regarding learning. It is allegedly superior to all other learning theories. In this context the only other learning theory that obtains a mention is Instructionism. School we are told is beyond the pale because it only uses Instructionism and that is bad.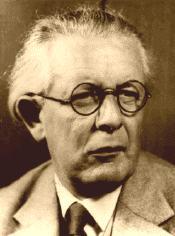 Jean Piaget
The reality is that learning theory is complicated, there are many learning theories, no learning theory that can clearly claim general superiority and schools to varying degrees do experiment and trial different approaches, albeit imperfectly. Certainly, there is a perfectly legitimate feeling out there that School ought to change in fundamental ways, to become less didactic and more "child centred" (for want of a better phrase). My request here is that that discussion ought to be nuanced and concrete rather than dogmatic and religious.
One possible response to this problem is to attempt to define constructionism. However, such a response on its own will not suffice. Definition is only one narrow and fragile pathway to knowing. It's more fruitful to design a constructionist learning environment than to attempt to define one.
Does the OLPC represent such a design? Will constructionism just happen by sending out OLPCs to children as though it is somehow embedded in the hardware and software of the machine? I don't think so.
If constructionism is defined simplistically as learning by making and doing then such an approach might seem adequate. To paraphrase:"Get rid of boring teachers who just want to lecture all day and put learning machines into the hands of children so that they can do and make interesting things". In my opinion this sort of thinking just replaces one caricature (instructionism) with another (technocentrism).
The idea that a great learning machine, which the OLPC certainly is, will solve all educational problems is just as flawed as the idea that a teacher continually broadcasting from the front of the room will solve all problems. Perhaps everyone realises that but we then return to the problem of the inadequacy of then throwing in the word "constructionism" as a semi magical ingredient.
Beyond learning by making and doing there are other items in the constructionist suitcase which might be worth spelling out, not to be overly prescriptive but to broaden the discussion beyond its current over simplified parameters.
One important thing is that the intellectual development of children is astonishing and that adults have collective amnesia about that development which they themselves have passed through.
Piaget:

When he was a small child, he was counting pebbles one day; he lined them up in a row, counted them from left to right, and got ten. Then, just for fun, he counted them from right to left to see what number he would get, and was astonished that he got ten again
- genetic epistemology
I think the key thing in this story about counting pebbles is the word "astonished" in the above quote. I have no personal recollection of being astonished by discovering the law of conservation of pebble number. And yet experiments with young children show that before a certain age this is something they (meaning all of us) don't know. At some stage in our personal development we learnt this, internalised it and then forgot that we learnt it - and can't recall any sense of astonishment or not knowing something which as adults, seems to us to be common sense. When it comes to understanding child development this sense of astonishment needs to be applied to all things. It took a Piaget to realise that to understand children adults have to systematical fight their collective amnesia about the drama of being a child.
Understanding Piaget's phrase "genetic epistemology" can help too. Knowledge itself evolves, not only the uptake of it by children. In practice or as a research agenda this would mean exploring the deep structure of knowledge. For example, when Idit Harel and Seymour Papert investigated primary childrens' understanding of fractions they focused on transformations between pictorial, word and symbolic representations of fractions. They then asked the children to design and make computer screens using logo programming to make their own fraction problems for younger children to solve in a cross age tutoring context.
So, in this example the teacher and students co-constructed a learning environment that is replete with "objects to think with". These "objects" include:



The challenge of teaching others and designing screens for this purpose using Logo


The structure of fractions and their transformations (words, symbols, pictures)


Other students, eg. best friends, class experts, the younger students


The teacher (Is he/ she approachable, friendly, empathic and skilled?)


Journal reflections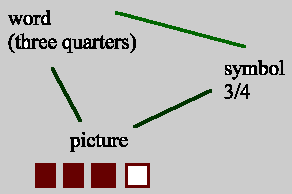 Taken altogether this dynamic learning environment represents the ISDP (Instructional Software Design Project), one possible constructionist environment. The learners were consciously engaged in constructing a useful public entity over an extended time frame. The fraction explorations continued for four whole months.
One thing we know about conventional School textbook methods of teaching fractions is that often students can get the correct answer but don't grasp the deeper meaning of what a fraction is. For instance, in Idit Harel's study one of the students ("Debbie") was asked to draw a fraction. She drew a circle and shaded one side of it. When asked to identify the fraction she pointed to the right shaded side of the circle. When asked if the unshaded part of the circle was a fraction, she said, "No. It's not a fraction. It's nothing".
Similarly, Australian researchers Nerida Ellerton and Ken Clements have pointed out that:
"many children who correctly answered pencil-and-paper fraction questions such as 5/11 x 792 = q could not pour out one-third of a glass of water, and of those who could, only a small proportion had any idea of what fraction of the original full glass of water remained"
To transform from rigid understanding to flexible understanding and to achieve meta cognition (thinking about ones own thinking) and meta conceptual development (thinking about ones own knowledge and understanding of concepts) requires the sort of learning environment described above.
Does this help tidy up the constructionist suitcase or does it remain still too full or fuzzy? Certainly, I have only scratched the surface of a complex topic.
The author, Bill Kerr, teaches at Woodville High School in Adelaide, Australia.

You can dowload Bill's original article in open document format complete with references here.