Tonight I shed a tear for Sugar. I am in sadness for it. I may even be in mourning, here on the eve of my wedding.
I am reading Ivan Krstić blog about Microsoft and I see a repeat of history past in OLPC present. I see the death of Sugar, like so many other GUI dreams.
We will begin with a photo of Microsoft demoing Windows XP on the XO to OLPC. There I see happiness and awe. Geeks all excited about a new technology trick - fitting the fat Windows XP on the slim OLPC XO. Developers in praise of each other's work, a mutual respect of brilliance brought to bear.
And when I read, I hear Ivan's optimism, his exuberance, his dedication to technology innovation:
The folks running this work on the Microsoft side are good people. They have left no doubt in my mind that they believe in what we're doing and want to play along. I am also confident we have made the right decision at OLPC by embracing their work instead of stonewalling it.
But I must admit I do not share his belief than Microsoft sees One Laptop Per Child, the XO laptop with Sugar, as a configuration they want to play along with.
I am confident that Microsoft sees OLPC the same way it viewed bigger, better, bolder companies: IBM, Apple, Linux in any form. It sees OLPC as a wedge, an infection vector, a new platform for greater market share. Nay, greater domination of a whole new market.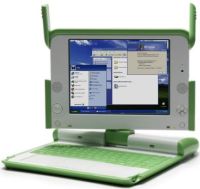 Here is a way for Microsoft to infiltrate an emerging computing platform - low-cost computers - that will be the growth market in the 21st Century. But don't believe me. Hear it from Bill Gates himself:
Emerging markets are growing for PCs, people are doing cheap PCs. We've always believed in cheap PCs. If the hardware were free, we'd be happy.

We're about the software. We're in literally over 100 countries with special versions of Windows, including Starter Edition. OLPC is nowhere compared to where we are on this thing. If that form factor, some people want to use that, we'll make sure Windows is available on that.
"Available" That's so polite. I wonder if he said the same thing about Netscape. I wonder if Microsoft will soon be saying the same thing to Ministers of Education in the developing world.
"Sugar? Yes, that's available on the XO too..."