Thinking about One Laptop Per Child commercial sales, specifically who would buy a "$100 laptop" when the XO retail price is more like $325 and the Sugar UI is designed for children, I wonder what adult operating system OLPC might bundle with the XO.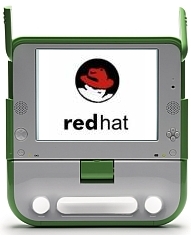 First, there is Red Hat's Global Desktop:
The software borrows from the One Laptop Per Child (OLPC) project, with about 95 per cent of the code overlapping. The OLPC uses an adapted version of Red Hat's Fedora Linux.

The Global Desktop won't share the OLPC's 'Sugar' user interface, but will come bundled with applications such as Firefox and OpenOffice.
With that code overlap, Global Desktop seems to be the natural choice for a commercial "$100 laptop" - it would take the least work to modify it for
Christmas XO sales
.
But that might annoy the commercial hardware vendors that have already lined up to ship Intel-powered Global Desktop computer systems. Vendors actively courted by AMD and who don't want to compete with the "$100 laptop" vision, even if its not $100 dollars.
Now there is a second option, Ubuntu Mobile. Canonical Ltd., the commercial sponsor of Ubuntu, has a close relationship with Intel, OLPC's newest Board member: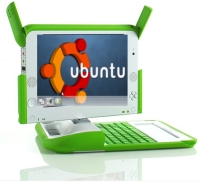 Ubuntu Mobile and Embedded Edition will provide a rich Internet experience for users of Intel's 2008 Mobile Internet Device (MID) platform. To achieve this, Ubuntu Mobile and Embedded will run video, sound and offer fast and rich browsing experiences to the MID target user.

Optimized for MIDs based on Intel's low power processors and chipsets, Ubuntu Mobile and Embedded edition is expected to deliver fast boot and resume times, and reside in a small memory and disk footprint.
Now doesn't that last sentence sound interesting? Like Ubuntu Mobile could be paired with an
Intel Inside XO
form factor? Better yet, check out what
Mark Shuttleworth said
about Ubuntu on the XO:
I think it's a really beautiful project and I'm very supportive of the work, they are doing some great innovations in there. I expect that some of the countries that will go down that road will choose Ubuntu and if they do that, we would help them to make Ubuntu work very well on that platform.

At this stage obviously everyone is waiting to see how it will pan out, my own sensing is, that it's already a triumphant success in terms of shaking up the industry and getting the industry to think about both new technologies and new markets.
And the most explosive shake up to the global computer industry would be an
OLPC product mix
with either operating system. Just listen to
Christopher Blizzard talk up
the goodness of OLPC's
speedy suspend/resume
,
wireless mesh
, and
dual mode screen
to the BBC:Doesn't that functionality, in an affordable laptop, sound perfect for
adult XO users
?